Please Note you can click on photo's and Documents to make them bigger. please note also that the early ones may not enlarge, but the newer one's will.
On a Personal Note
This website is Dedicated to the Memory of my late Nan, who without her comment, and money left in her will, to me, then none of what we are doing would have happened. and this is why we take nothing from this idea everything goes to bringing about change.
Nan's message read  …… You could change the world if you put your mind to it, Stephen.
Hello, if you have not been here before, welcome to my website, my name as you can see from above is Steve Wyles, I was born in 1962 in the UK unable to swallow, I have put this site together to bring as much info I can find into one place, for parents and adults like myself to find out more instead of trawling the internet looking, my own story can be found on this site, in only 15 months I took this website, one of 3.5 million with near same domain name to the first page on google, showing Doctors that I am very dedicated to doing this site, and in doing so have some leading USA Doctor's joining me and my very small team, in putting out the first ever tried world survey, hopefully, more will follow in time, I would like to thank those involved, for believing in me. For you reading this, I am also involved in other ongoing ideas, that should help all, born unable to eat.
My Facebook page:- https://www.facebook.com/profile.php?id=100004980497666
.
We Talked and the Doctors listened
So who are we, I hear you ask?
Steve Wyles Adult-born unable to swallow in England in 1962, I put this site together to help New Parents understand what might lay ahead.
Sue Paul, Wife of an Adult with Ea-Tef, USA who became my Friend before his death from lack of data on his condition, you can see his photo lower down, Sue like myself wanted to help the children, following Chris and Myself.
Bev Stark, a Mother of a 13-year-old English boy, who struggles every day with conditions linked to being born unable to swallow. With joint effort from myself and Bev, we put together the biggest facebook support group in less than a year.
We asked world charities about linking up to run a World Survey and were told no thanks it can not be done on that scale. Only one USA Charity said yes let's do this, run for no profit by an Adult-born with Ea-Tef, and who this website now supports, Christy's Charity details can be found here on the site.
I have used the LOOK Logo to say, Look what just three none Doctors took on and made happen. We are now working with many Doctors from around the world on our next idea.
This Survey below has been left open and is still taking in data, please Help the Doctors click this link below
Click on photos to enlarge photo's
What you're about to see below is part of a much bigger research project, which is ongoing, and still taking in data from around the world, it is the biggest ever tried, so please take the opportunity to help these Doctors, like the many Families and Adults, who have already taken it. 
We linked up with a team of Doctors in the USA from, Center for Esophageal Diseases and Swallowing. As I believed this teaching Hospital was the right place to push forward the idea.
06th – 09th May 2017
DIGESTIVE DISEASE WEEK ANNUAL MEETING 2017
DDW is Digestive Disease Week. There is the opportunity to uncover the most recent advancements in the field of Gastroenterology, Endoscopy, Hepatology, Digestive System and Gastrointestinal Surgery. DDW 2017 is one of the biggest events and organised annually. There are more than 14000 attendees will participate in this meeting in this year. DDW 2017 will be held in Chicago.
May 2017 at the DDW is where our team of Doctors presented the two medical papers and the abstracts as large posters, picked by the team @ DDW from 1000's of applicants.
 The room and board area this took place. red dot marks where the Posters were shown.
This is the YouTube Channel we were given by them to run on this website, it will explain more
For me just searching using my name, and that of Sue Paul to see our names as Co-Authors was a real honour, as the two of us put the survey together, found the team of doctors from CEDAS, Center for Esophageal Diseases and Swallowing, at the UNC in USA, allowing us to work with Dr Dellon and his team, who with us came up with the finished survey questions, that you now see on the survey found on this website.
To be able to find this by just using my own name was an honour.
Using Sue Paul name was exciting too, as we are listed as Co-Authors at the DDW
POSTER 1
Please note that included on both these posters your see this website address, as it was passed by the IRB board to link the survey from. (IRB stands for Institutional Review Board. The IRB is a committee that provides ethical oversight and ensures the protection of the rights and welfare of humans taking part in research studies)
POSTER 2
The team at the UNC have kept open the link to allow Parents with Children and the Adults, born unable to swallow, the opportunity to take part in something very large and which is reaching across the world, so if you have not taken it, please do.
The survey is still running this is normal I have been told by Doctor Dellon.
Below is the email (Screenshot) from Dr Dellon, to give Sue and me the ok to launch this info from here, it does hold a copyright on this. If you open up photo's you can see our names on both medical papers and also this website address too.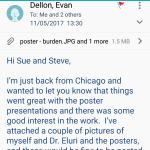 You can read lower down on this page next to my Friend, Chris Paul's photo how all this came about. Then look at the page called letters of support, note the dates on these letters.
Please Note a lot of time has gone into doing this, it has been done right, making sure it was legal. We didn't need the IRB tag, but we wanted you to know that your best interests were coved by law. By doing this we have opened up a way of you the Parents and Adults to help our team of Doctors more about this below. 
Next step, from this, comes two medical papers, to be written up by Dr Dellon's team and published later this year in a reviewed medical journal.
This Quote below is so true
"Never doubt that a small group of thoughtful people could change the world. Indeed, it's the only thing that ever has.—Margaret Mead, author of the quote.
This is why
This is a Personal note from me to you regarding an Adult living with Ea-Tef and who was involved in bringing you this world survey. Chris Paul had lived with this condition his whole life, the Doctors not really understanding fully, over the few years I had got to know Chris and his wife, we laughed, joked, and talked about being kinda Ginnie pigs as we were growing up, Chris lived in the USA, me in the UK. We talked about what if, we could help make the world a better place for the young children following in our footsteps. Much research is done for babies, and young children, but not much is known about what happens in later life, where all your children are heading towards, where Chris and myself are now.
There were a few who have put doubt on this survey, regarding where the data goes to, but it's run by leading Doctors in the USA, and who could see that this data was very much needed, this website was asked to help reach the many countries that we hit per month and in doing so helping to understand things that were not known.
Sadly Chris Died in early Nov 2016 due to an operation that didn't work, because of the lack of needed data and understanding, and in the few months leading up to Chris dying, young babies, and young children have died to, I will very much miss Chris Paul from the USA, my Friend that understood why I do this website, for no reward, and why he wanted into maybe just maybe change the life of one Family, who has a Child Born Unable to swallow.
I am also linked to this EA-4-A which means, Esophageal Atresia for Adults. The facebook group is new and we are working with a USA Charity, which was the only one to run the survey found above, and is run by an Adult-born like Chris was. We are working on a few ideas at present.
https://www.facebook.com/EA4A2015/
With Chris undergoing treatment we talked to his Doctor Dr Evan Dellon and asked if we could link up and run our survey, Dr Dellon said they did not have a platform to do a world survey of the size we wanted to go for, I said in the phone call, that the website was hitting half the world, which would give them the platform, and they said yes, it was a massive idea, the question was would we get the support from the Parents and Adults, to pull this off?
~
Christy Cook (Adult)
My name is Christy Cook, I was born an EA/TEF baby in Baltimore, Maryland in 1963. Fifty-four plus years ago my "long gap type C journey" began.  The first surgery at attempting to correct my unusual birth defect was performed on the very first day of my life at Sinai Hospital by Dr Jack Handlesman and his team of doctors. Since the gap at the oesophagus was too long, the connection was not successful so the gastrostomy tube was very carefully inserted into my small stomach.  Thus, the g-tube became my lifeline the next four years.  The doctor's goal was to attempt another corrective surgery when I weighed 25 pounds. Reaching this goal weight sometime during the year of my second birthday, the doctors began contemplating another method for corrective surgery.
Read More of this on this page: http://www.birth-defect.org/ticking-time-bomb/
No one understands, in Norway
Hello, my name is Lene Cecilie and I am 40 years old.  I was born with a fistula between the oesophagus and right lung. When I was born everything seemed to be normal and I was a happy and satisfied girl. But when my mother should breastfeed me, I began to cry. She did not understand why this happened, a child does not cry when it gets food. She tried everything when it comes to feeding me. Mom went to different doctors and no one understood what was wrong. After seven months she came to a doctor who took her seriously and who discovered this congenital defect. I had a fistula between the oesophagus and lung. I also have malformations of the trachea. 

Read More of this on this page: http://www.birth-defect.org/ticking-time-bomb/
.
YouTube video's of the children Born Unable to Swallow
(Let me know if you have a video you would like to share on our youtube feed)
PLEASE NOTE before running this Video on the right side of youtube your find (Autoplay) make sure this is turned OFF
Watch and like, this video below, made for the awareness 2017 showing the Children living with this Condition born unable to swallow, made by a Mother of a child with Ea-Tef
With Children and an Adult-born with Ea-Tef hear his Message, to you and your Children
R.I.P Chris Paul.
Below is the Blog I asked Sue, Chris's Wife to write, on Chris, his life and leading to his death from being born unable to swallow, a very honest account.
http://www.birth-defect.org/ea-tef-vacterl-charge-tofs-live-blogs/#adult-tef-blog
 If you are New Parents then you can start here is the link to the page you might like to start from. Click on it below.
---
This Site is Run by Parent's for Parents we are not Doctor's What is found on the enclosed pages is from our internet research, bringing you a mass of info and placing it on here. We do get sent info from different sources, and can not confirm every single thing you read, but at the end of the day, you only have to ask your Doctor to put your mind at rest. 
PLEASE NOTE
*The resources on this site should not be used as a substitute for professional medical care or advice.*
---
Save
Save
Save
Save
Save
Save
Save
Save
Save