Many Story's from Adults below, all children at some point will reach Adult Hood, much more research is needed in this field of medical understanding.
Testimonial Of Aiden Matthews
11-11-16
My name is Aiden Matthews. I was born on 26 November 1990. Shortly after birth Doctors found I had a condition called Tracheo-Oesophageal Fistula (TOF), Oesophageal Atresia (OA) with Tracheobronchomalacia (TBM). I am now a 25-year-old man who is able to live a mostly normal life. My past 25 years have been a journey, to say the least, of both tough and good times. As I grew up and got older, living with my condition became easier as my body adapted and I adjusted through trial and error with regard to eating patterns and habits, which foods worked or didn't, day to day living, severity of colds, flu's and pneumonia, signs when something is amiss and the severity of such things.
When I was just 3 days old I underwent my first TOF repair, which was not a success as the gap between the two ends of my Oesophagus were too big. The ends were closed off and a Gastrostomy tube (feeding tube inserted directly into the stomach) was fitted. At 1 month old, I was then transferred to the Johannesburg General Hospital where Professor Peter Beale took on my case. He attempted a TOF/OA repair again which this time round was a success. Due to the join being very tight I was still unable to tolerate feeds and was fed through a Gastrostomy tube which was then only removed at 7 months old at which point after my first oesophageal resection, I then started eating smooth watered down foods with no lumps in it at all.
I also at 7 months old underwent an Aortopexy (A surgical procedure where the Aortic Arch is fixated to the sternum so that the Tracheal lumen is pulled open) to treat Tracheobronchomalacia. I battled with acid reflux from the beginning; I would aspirate and develop pneumonia. It was then decided by Prof. Beale and my mother at 8 months old to go ahead and perform what would be the first of my 3 Nissen's Fundoplications whereby the Fundus of the stomach is wrapped around the lower part of the Oesophagus and sewn into place. This prevents food and gastric juices (acid) re-entering the Oesophagus. (In simple wording it prevents Gastric Reflux) I also had my Dilatations starting from 1 month old. These used to be done weekly, then bi-weekly at first for 7 months but they started becoming more prolonged in time until there was a 7-year gap between, till I had my last one.
At the age of 16 years old I developed Barrett's Oesophagus after it was found that my last (3rd) Nissan Fundoplication had failed. This is a condition whereby the Oesophageal lining is damaged due to Gastro-Oesophageal Reflux of a long period of time. It was then decided due to the severity and Oesophagectomy would be performed.
This took place on the 7th of January 2008. There was firstly a decision of a Colonic Interposition ( Where the colon is used to replace the Oesophagus) to be performed but as a result of too much scar tissue surrounding the colon from all previous surgeries, it was decided to perform the Pull Through Oesophagectomy(When the stomach is used to replace the Oesophagus). After the 11 hour procedure, I developed Adult Respiratory Distress Syndrome and was ventilated for 6 weeks and spent a total of 7 weeks in ICU. As a result of the Induced Coma, I then developed Muscle Atrophy (Loss of muscle tissue and nerve supply) in which I had to learn to use my limbs(arms and legs) and to walk again. This is when I got my nickname The Living Legend by My Stepdad, Mother and many others Trigger Thumb- Repair was done at 4 years old.
One of many Gastroscopes, but in particular one was to retrieve money in which I had swallowed a 10 cent coin (1994) and it got stuck in my Oesophagus. (Was nicknamed Mr Money Bags.
Perthes Disease( Blood supply to the femoral head of the hip bone is disrupted and bone cells die resulting in softening of the bone, bone loss and distortion) in which at 6 years old I had an Osteotomy (Cutting off the hip bone and alteration of weight bearing) then at 20 years old underwent a Total Left Hip Replacement.
Anal Fissure- had a fistulectomy to repair it at 22 years old
Haemorrhoids- had a Haemorrhoidectomy (Removal of Haemorrhoids) at 23 years old.
An inguinal hernia due to weakening of abdominal wall in which I had a repair done at 24 years old
Stenosis of Pylorus (Narrowing of the Pylorus situated at the opening of the stomach into the Intestines). Underwent a Pyloroplasty at 25 years old. Today I am qualified as an Enrolled Nurse and wanting to pursue a further career in Emergency Medicine as a Paramedic, which I hope to start my studies within the next year to achieve my goal.
Word Document in bold black below has this write-up plus all the photos of Aiden Click to view.
Testimonial of Aiden Matthews (1)
~
1-3-16  
My name is Tudor Morgan-Huggett. I am an identical twin that was born prematurely at 28 weeks in 1995. I was diagnosed with Tracheo-Oesophageal Fistula (TOF) and Oesophageal Atresia (OA). The rare condition affects one in every 3,500 babies in the world. I then spent months in the hospital and to date, have undergone 95 operations. I spent until the age of eleven on oxygen, due to chronic lung disease, and until twelve months ago was fed via a gastrostomy. I have various other conditions, one being hearing impaired in both ears.
I have faced many challenges at such a young age up until now. Due to the severity of my conditions, consultants said I wouldn't survive beyond the age of three. The strength that I had, to overcome this shows you that you should never give up, believe in yourself and that you can go through the pain to prove the doctors wrong.
The great support from my family, friends and relatives has helped me massively. Along the way, my family have been my inspiration, without them, I wouldn't be the person I am today. My mother, father, sister and brothers have always been there for me, through an endless amount of hospital admissions, procedures and appointments, the latest operation being January this year. I am extremely close to my family; they are always there supporting and encouraging me to be successful in life.
I missed many lessons due to hospitalisation. When not in the hospital, I attended Pembroke Primary School and Chepstow Comprehensive School. The staff members, teachers and other members of the community were very encouraging, they were made quite aware of my set of conditions. During my time at Chepstow School, I achieved awards for different sports and overcoming adversity at the schools Oscar and BAFTA's evening, I was very proud to be honoured with this great accolade. Having achieved three A* stars at sixth form, I am currently in my third and final year at Cardiff Metropolitan University (UWIC), studying Sports Development.
I currently play for Chepstow Cricket Club, Caldicot Town AFC and I am a member of the Cardiff Metropolitan University Futsal Club where we play in the Welsh Futsal League. I play for the Wales Deaf Futsal Squad. Playing for Wales is a dream; it's an amazing feeling to play for the country of my birth. Recently, I have been shortlisted for the Great Britain U21's Deaf Football Squad. I will be attending along with other selected players, the monthly training camps in preparation for the European Championships to be held in Poland, in August this year, (2016). This personally, is a great achievement for me.
I am a very outgoing person who enjoys meeting new people and gaining new experiences. I have travelled abroad and explored some amazing countries; such as Italy, Spain, Portugal, and France. I love the different cultures. I am so happy to have been able to achieve all that I have done over the past few years. I have challenged myself to work hard and strive to be successful in the future. I hope you find this short story of my experiences of growing up and beating the odds, a warm and an encouraging read.
I really hope that this will give solace and comfort to other TOF's and their parents.
Tudor Morgan-Huggett said he was wanted to help others by posting his story on this website
~
Adult EA-TEF makes the Paper, click on Paper Cutting to enlarge it, to read.

Samantha Robbins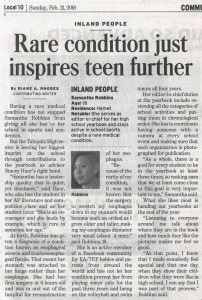 Thank you for allowing us to include this on this Website
~
My Story by Carlos Defazio
Hi everyone, as I have just joined the group that Steve and Bev created, which I found after seeking further information about our condition, on the internet 2016. I would like to share my story with all the other members, of the facebook group, and you reading this on this website.
I am a 42 year adult from Uruguay who was operated of EA and TEF when just born, in 1973, being the first case to survive in Latin America and the third in the whole America.
Since then until four years ago I had no trouble in feeding or living regarding my original condition.I grew up happily, and unaware of all the suffering that I had undergone as a baby, but very aware of all the looks that I get in the beaches, swimming pools and any place where my body should be exposed.
The only reminder of this condition was a plastic surgery at the age of 11 years, performed on my back on the external original scar of the operation, since the doctors had not even bothered to remove the stitches as they thought that I would not survive the operation, like the others babies before.
Yet, in 2012 after an endoscopic control, doctors discovered strong stomach reflux and the formation of a diverticulum between the oesophagus and the trachea, just where the original surgical stitches were made.Since then I have been treated with medication for the reflux, but doctors have no intention to perform any further surgical attempt, due to the risks of such an operation, and to their lack of experience in the specific field.
From then until this moment they advised me to live on until this diverticulum may break completely, making it impossible to eat or breath properly. Then and only then, they would operate on me.
So I have been trying to gather more information about my condition, and about the medical experience and teams that would be able to treat properly patients with such a condition like ours. I am really happy to share my story with all of you and to see that I am not alone in this world that often does not recognise our condition….
Feb 2016 update
Hi everybody, Updating news from my state of (non) health…yesterday, at 42 years old I had a control check endoscopy, resulting in discovering another diverticulum, smaller than the other found previously, always in the same old area where the original internal stitches were made to repair my fistula when I was born…..Slowly all is falling apart and doctors keep on telling me incredible excuses such as: it is normal, do not worry, best not thinking in the possibility of a new fistula… So I keep on living with this pouches inside my chest, full of food, reflux and so on…
Thanks for listening to my story, greetings to all of you… Carlos, from Uruguay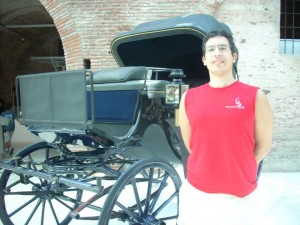 .
27th-06-2017
Sarah USA
Sarah has started to write a Blog of her life link below
http://www.birth-defect.org/ea-tef-vacterl-charge-tofs-live-blogs/#sarahs-live-blog-living-with-ea-tef
I was born with multiple birth defects; the most serious was Esophageal Atresia and Tracheoesophageal Fistula (EA/TEF) which means I was born without a complete esophagus.  The top part of my esophagus ended in a blind pouch and the bottom connected my stomach, with all of its acids to the bottom of my trachea, just where my airway branched into my one functioning lung.  This was a very dangerous combination. Babies born with EA/TEF usually have multiple birth defects throughout their midline tract and problems with their breathing and eating because you should have 2 tubes – one for breathing (trachea) one for food (esophagus).  I had one and a half and only one lung.  There are less than 10 cases like mine (EA/TEF and missing a lung) in the medical literature.  Most of the babies born like me died before they reached 6 months old.  The day after I was born, surgeons put my esophagus together – the first of over 20 surgeries I've had in my life.  The surgeons that worked that day had over 60 years combined experience.  I was the first that they had seen with one lung and a large fistula.
In addition to having one lung; I had a 90% collapse of my trachea which forced me to need a tracheostomy and a ventilator until I was three years old. The ventilator and trach also caused devastating damage to my hearing, but that's the price I paid to be alive. The tracheostomy saved my life because it allowed me to breathe, but put me at risk for pneumonia.  With one lung, any pneumonia is life-threatening.  I spent a week or 2 in the Intensive Care Unit almost every winter throughout preschool and elementary which meant I had to work twice as hard to learn and felt like I was constantly behind the other, hearing kids.      
The same drugs that saved my life when I had pneumonia took away my hearing by the time I was fourteen months old, but I was originally born hearing. This lead to many communication barriers even though I have cochlear implants (CI).  It is hard for me to talk with others in a noisy area because my CI's do not filter out the noise to hear conversations. Being deaf is actually the least of my issues compared to my other issues, but it impacts my life deeply and every day.
 Most people are born with two lungs, a heart on the correct side of their body, and a stable trachea. I was born without any of those things. This meant I had a very rough start of my life. I was given a tracheostomy to save my life when I was four months old. The trach saved my life and kept me alive and well for seventeen years. However, in exchange for the trach, I had to lose my hearing. The trach itself didn't cause me to lose my hearing, but all of the hardships of having my trach combined with antibiotics to combat my high fevers caused my complete hearing loss. The fevers were in the 105-6 range. All of this has led me to be the woman I am today. However, the story of my summer surgery was a step in the right direction to reverse my gastric pull up and get rid of my tracheostomy.  
Otherwise, I would throw up. After I ate every meal, I would run to the nurses' office right next to the bathroom to suction out any coloured mucus from eating. Sometimes I would have to suction out chucks of food from my meal. When I tried to join in groups for classwork or fun activities I was simply told I couldn't join my peers.  My teachers would pull me aside and tell me to just work quietly alone.  Although one of my classmates wanted to invite me to her house to hang out, but her mother told her she couldn't have me over because of my issues and the trach. I really wanted to get rid of the trach so I could eat without aspirating and feeling full. I also wanted the experience of being treated like a normal person without being shunned or stared at all the time. I was never laughed at to my face but I was shunned from my peers and their parents too.  In 9th grade, I took a trip to Boston to get a 2nd opinion on if the trach could be removed since the three decannulation attempts  failed – after 4 hours, after 1 day, and the last failed attempt failed after 4 days.  Dr.Jennings and his team spent that summer evaluating my anatomy and making a plan for the 2014 surgery, just before I entered 11th grade.  
The first trip to Boston was scary, but a success.  I was approved for the 2014 surgery which took over 32 hours to compete and almost a full year to recover from.  Throughout the evaluation I made one huge discovery. I was born without a uterus also known as MRKH which would make me infertile. Many people with EA/TEF are infertile or struggle to support a pregnancy due the fact that they have a hard time eating to support themselves let alone another life. Also another factor as to why people with EA/TEFs tend to be infertile or unable to carry a baby to full term is due to the fact they can have defects in their reproductive system which is unfortunately common with people with EA/TEF.  Surprisingly, the EA surgery team didn't know this, but the MRKH specialists were not surprised, as they had seen other teenagers with TEF and MRKH. I went into the first of 2 surgeries scared, but with high hopes.
Beep beep beep… the ventilator droned on. I slowly woke up. Everything around me was fuzzy. "What day is it? Where am I?" I asked myself. The walls were sterile white. My parents were sitting to next me in a chair watching me.  I couldn't recognise them right away. The drugs that had kept me in a coma for a month prevented me from recognising them or anyone else in the room when I woke up. I was so exhausted that I let myself drift back to sleep. Falling asleep while on pain meds makes me so light headed and so peaceful. It was almost like floating in a swimming pool on a warm day. I was in the ICU for a month afterwards and on the floor in Boston children's hospital for another month.  The recovering period was long and unconformable. I had to have my pain managed and relearn to walk again. This required six months of physical therapy. I had a lot of support from my family and friends as well.
 For the first two years after surgery, everything was fine. I was able to eat without feeling full in my chest, aspirating, or throwing up. However, six months after my nineteenth birthday; I got a chunk of a hot dog down my esophagus.  I ended up in the ER to remove the hot dog.  While in the ER I found out several things. First of all, adult GI doctors and ER doctors know almost nothing about EA/TEF. The adult GI doctor on call in the ER asked what an anastomosis was.  Once the doctor finally scoped me, she didn't see any pieces of hotdog instead she saw mushy chunks of food over the past two days prior to the ER visit mushed tighter with air and liquid together in a ball. The food ball was so large that it took 45 minutes to clear out the mess. After that unexpected ER visit, I went to an esophageal dysmotility specialist two hours away from where I live. He scoped me and found partial esophageal webs. He removed the webs and my eating and swallowing went back to baseline. 
 Another six months later I ate a rhubarb pie and I got it stuck. The next morning, I woke up with a burning feeling in my esophagus. I had a hard time swallowing my breakfast; by the next day I couldn't swallow my spit and my pain was about 9 out of 10. My mother took me back to the ER. The ER doctors' first question was "why did you come back? We don't want to help you."  Then it took almost an hour to get my pain meds from the time I asked for pain meds to the point I got them.  Instead of getting all of the chewed up food out of my esophagus; he took some of it out and shoved the rest of the reminding remnants down further.   Then after the scope was done, he told my mother that if I hadn't been stopped swallowing my spit he wouldn't have helped me at all. Excuse me, but by the time I am unable to swallow my spit I am severely dehydrated, my pain is also severe, and I probably hadn't eaten a good meal in a couple days. Why would anyone wait until their condition is out of control to seek help? It only makes the medical staff job much harder and the patients loved ones worried, stressed and scared.
Since the first trip to ER left us with no solutions and a lot of stress I had to go to a different ER in a different town for help later that week. I still couldn't eat anything and it hurt to swallow anything.  The second ER was kind and helpful. The GI doctor there took me down to the GI lab and scoped me and found a large ulcer down in my mid and lower esophagus from leaving food down there so long and shoving food bits lower down into my esophagus. He also did an emergency dilation.  I had to be admitted overnight for observation and pain management.  I was discharged with a treatment plan for my ulcer and a follow-up appointment.  I was grateful for the help I got in the second ER/hospital trip but by the time I was treated for my issue I had gone a week without eating much and my body was breaking down protein for food. In other words, I was starving. If the doctors from the first ER trip had been understanding, compassionate, and had done their job thoroughly then I wouldn't have had to go through all that.
My life has improved since of the 2014 Boston surgery in some areas but at the time it has caused issues.  For example, I have had more issues with my esophagus than I have had in my entire childhood. However, my breathing is quieter and easier with the exception of recurrent respiratory infections.  Right now, I am under a treatment plan under a couple of different doctors and things are going well but what happens health-wise in the next ten to twenty years? I have no way of way of knowing what my future holds for me. Right now, I am planning on going to college and pursuing a degree in family studies and exploring my future career options. Whatever I do with my life, I require really good health insurance to ensure any and expected medical emergencies EA/TEF related and day to day care. This requires careful planning of my career and life in general. I am going to have to make big decisions and ask big questions such as, where am I going to live after college, where can I work that will cover my medical bills, Which doctors will I have to switch to that can handle me and are willing to help me if I move away from my hometown, If I am unmarried and living in my own apartment how will I get to the ER in the event of an emergency, who will speak up for me if I need it once I get to the ER.  
These are things that young adults with EA/TEF have to worry about as leave home and step outspread wings on their own.  I am not trying to scare anyone but for a young adult with EA/TEF the world out is more complicated than for a non-EA/TEF adult and leaving home for the first is scary for everybody.  Imagine negotiating the world as a young adult with a condition that most doctors have little to no understanding of and an uncertain future?  That's why doctors need more awareness and understanding of EA/TEF and how to assist adults or ask for an experienced doctor to step in. In my mind, understanding and awareness lead to compassion and compassion helps stressed and scared EA/TEF adults and their loved ones once they arrive at the ER for help and treatment which would make our lives less stressful than it already is. 
Looking back thinking 'where have the years gone'
Steve Wyles (ME)
Over the past few months, I have talked to Adults born before most of you were born, about our time in Hospital's, for me the early Children's wards where long, girls one side, boys other. No TV or if there was it was at one end and black and white. A few tables in the middle were for doing games or just colouring in things, boy was I good at colouring without going over the lines. Parents could not stay, you were on your own, Nurses took no messing around, you were there ill, they had a job to do. back then they cleaned the ward, and by god, they cleaned it well. (Not like now, were cleaner might talk a wee bit of English but will mop around a case rather than mop and move and mop were case sat?) Talking in England here. I often look back and wonder, was I saved from eating Hospital food by being Nil by Mouth, or did I miss out? Those metal bowls for ice cream or jelly. I don't remember much of my early days, maybe I just blanked it out I was there so much.
In early Adulthood being on a very big ward, again ladies one side men on other, the noises of being an Adult …………….. I felt lost.  I used to get out of bed and pump it to the highest point I could climb on a chair to get back into bed, why you might ask, so I could see over the top of people each side of me, so I could watch what was going on. It's funny what one remembers, like that curtain being pulled and staying closed all day, then at night in the dark bringing in a long black box, so the person behind that curtain could hide in it and get off the ward without others seeing………. No one told me it was a one-way ticket out.
Being in Hospital was for me like the feeling one must get when after school you get home and you feel safe, I still to this date get the same feeling and I relax knowing it's warm and safe. I hate needles, and yes I have passed out in some weird places when being told, this won't hurt……… I was rushed into Hospital once in a very bad way, followed by a bucket of my blood, Nan bless her was there too, while she sat outside the A&E room she heard the Female Nurse say, Steve we need to take some blood, and me replying saying, can't you take it from that bucket? I don't think I can spare much more……….. Nan said she then heard one of the younger Nurses say….. you can hold onto me if it helps ( I was only in my 20's be rude to say no ) Then the nurse said, Steve, this won't hurt………………………………………………………… BANG the nurse and two tables went flying, l had passed out. woke up on a ward with no Nurse around. I spent 8 weeks being moved between 3 Hospitals, wired up to blood and drips, one time my Sister came to visit, then training to be a Student Nurse.
I remember I had drips in both hands, and reaching up to adjust the wheel on the pipe to slow the flow into my hand, Helen said, what are you doing, they are timed to flow at that rate. Well, I was a pro myself by then if I'd of called over a Nurse she did what I had just done, and after all said and done, it was my hand hurting. If you read my Story on this site your of read a bit from a Lady called Pauline ……….. this stay was where we meet.
life in Hospital for me as a child and young Adult back in 60's 70's and 80's etc moulded me I guess to the person you see today, there are things I hate in life that most never give a thought about, but on the flip side I picked up life skills to that have allowed me to do things others might not feel happy with. I have always thought about others first and always tried to be happy go lucky, finding the funny side to most things that might have gone belly up. As I grow old I might be getting like an old grumpy old fella, but least I can smile about it all.
Something I just remembered, while in hospital once, I was on level 8 up in the clouds, and being an Adult was stuck on the ward, Staff wouldn't let us out, not even my smile could get us (others from the 4 bed ward) off that ward, that night on shift change over My best Friend came up and had parked his car in full view of our ward, Staff left for home, while walking across the car park where my Friends car was parked, we set of the remote controlled car alarm, My God she jumped, the next day again kicking our heels thinking of something to do, we made paper aeroplanes, and seeing how far we could get them from 8 floors up ………….. Yep, you guessed it, we got caught by the Staff Nurse from the night before ………………………………………….. yippy that day we got off the ward on LITTER PICK UP. Was it worth it … dam right it was. And yes she knew it was me and the car, but it was banter friendly banter between us and the Nursing Team.
Click to Enlarge. You're see my Name on this Medical Paper, this research is very much needed because your Children will be classed as an Adult one day.
Times change, I found the picture on Adults holding puzzle pieces, and as you can see used it on this page, reason is this, for every Adult now who was born in an age where I was everything was a learning curve for the Doctors and Nurses looking after us, puzzle bits slot together allowing, you to move on to find the next bit and so on. This puzzle is still growing by the day, by the people learning how it all fits together but without the box lid to follow.
Adult care and understanding on what is in front of us is a very very short puzzle, no one thought that far ahead I guess, we are walking on thin ice, and without the data or understanding seem's the ball has rolled backwards to when I was born, a lack of understanding of what is coming. Thank you for your support and understanding to why I set this website up, and with Bev Starks help the Facebook group, and our friends in the USA working on an idea that could help start the puzzle started for my age group. Remember this, your Child is also headed this way too.
Hopefully, more story's from Adults will follow from here.
 A Quote from an Adult TEF about looking at life born unable to swallow
Lack of records is absolutely correct! In fact, some hospitals are gone that were in place when we were born and had our surgeries. This is the sad part….no info available to chart our medical difficulties as well as progress. Plus, most of the doctors that treated us as well as the surgeons have left this planet earth.
.
Alison Adult TOF 1-07-2015
So in Feb 1972, I guess you could say my parent's world was turned upside down literally.I was their third child born so you can say that my mum pretty much had the mothers instinct down to a tee!
In those days l suppose woman were to just give birth accept what your doctor told you and go home which was pretty much how my life started. Mum and Dad took me home although they were a little worried that l wasn't feeding properly and just being sick whenever l was fed.
The day after l went home mum took me to see Dr as I still wasn't feeding properly.Incredibly the Dr's reply to mums concerns was….you are a fussing mother take her home and tilt her cot up !! Listening to docs advice and against her gut instinct, she did as she was told but still no relief from sickness. The second day at home things took a turn for the worse so my parents rushed me to Alder Hey hospital in Liverpool. My breathing wasn't too good by this time either so it was pretty much a get down there and don't leave til someone listens……Thankfully! After the various test, it was found l had oesophageal atresia which had led to double pneumonia too. Back in those days the Dr's there didn't know about EA so literally had to search for a consultant who did.
My hero was found in Mr Roger Cudmore, from Southport UK, he drove down to Liverpool to deal with my care. That same night at 2 days old he performed my life-saving operation. I still can't get my thoughts around myself as a tiny baby lying in an operating theatre going through this fight for life! After my operation, my parents and family were called in and told to have me baptised there and then as by all accounts l wasn't expected to pull through. The nurse on the neonatal who was looking after me became my godmother, these days l don't think that would happen! Anyhow against the odds l made it through what would be the beginning of a long road of hospital stays/tests and apt's.
At 6 month old l was ill again and was found to have a kidney blockage, My parents were told back then that with EA you were likely to have extra fingers and toes or renal issues (as my party piece at primary school l used to tell kids that to see their reaction!) Warped l know lol……..So again major surgery followed that diagnosis at which l was found to have a duplex (left sided joined in the middle ) kidney. My earliest memory of knowing l had a problem with swallowing food was around 7 years old and being in the bathroom with Mum banging me on the back trying to get food out that was stuck. Between 7 and 13/14, it was a regular occurrence around the dinner table, Mum warning me to chew my food than me not being able to even swallow my saliva. This always ended in a trip to the hospital for a theatre visit for dilation……Funny how it all just seemed"normal" to me.
Even my barking cough which l had all the time was just part of me, l never questioned any of it. Age 11 saw the return of kidney issue with kidney stones so again major surgery as back then that was the only way to deal with them. I spent 3 months at that time onward M2 with nurses that became like family in the end as a large part of my life was spent there even took my school exams there at times with a teacher from my secondary school watching over me……very strange feeling doing exams attached to a drip!!
Once I turned 16 l was discharged from Children's Hospital and pretty much forgotten about medically regards EA and l just assumed that l was fixed for good……no follow-ups nothing it was if that part of me was just forgotten. I still had times when l would get food stuck but as an adult, I've kind of learned to stretch my neck upwards which thankfully helps the movement of food to go down. Along the way only now do l realise health issues like reflux, a slightly leaky valve in heart/murmur and this year breathing issue are all connected to this birth defect, how can that be in this day and age there is still not enough information out there about our condition.????
So that damn duplex kidney was the bane of my life with problem after problem until age 35 l had a full nephrectomy of the left kidney, strangely felt liberating to get rid of it after all those years of pain. So there you have it, if your still reading thank you for taking time out to do so, also l would like to thanks to Steve …….without him l would not have known what l do now about this condition, as back when l was a child it was pretty much swept under the carpet and now l cannot get medical records to read through as they are gotten rid of after 25 years…….so this site is educating me now at 43 years old about my health as a child!
from Steve, Thank you I can relate to a lot of this above and reading this brought back forgotten memory's