Christy's Courage Foundation
Meet Christy Cook, she run's an American-None Profit Charity, that means that ever dollar given goes to where it is needed. Like this website nothing is taken in overheads, this lady is an Adult EA-TEF, and like myself believes in helping others who might just need her help. Over the years of doing this website, I have come across other charity's who are only interested in money, and not interested in working as a bigger unit for the good of all. This website was involved in putting out the First ever tried world survey, that had the chance of collecting a mass of very much needed data, it was put down by other charity's as not being real? but the charity above took up the challenge and supported this survey, because, like the ordinary people who put the survey together, she believes in a bigger picture, and over the few years I have come to know this lady, I hold a lot of respect for her and what she is trying to do for others. 
I have been working with her on other ideas that I have been asked about, and I have passed this idea's onto Christy Cook's Charity because she cares and most of all are very honest.
If you feel you would like to donate money to her Charity than take it from me, every penny will be used for the right reasons, and this is why I have put this page together for her to show support for what she does, and to allow her charity free advertising across the world from within this website.
More from her website
Christy's Courage Foundation is a non-profit foundation based in Charlotte, North Carolina specialising in assisting EA/TEF clients with their specific needs for the betterment of their lives, their families and caretakers. 
What is EA/TEF? Oesophageal Atresia is a birth defect of the digestive system in which the oesophagus does not develop properly. The oesophagus is the tube that normally carries food from the mouth to the stomach.   
The mission of Christy's Courage Foundation is to improve the quality of life for children, adults, and their families with EA/TEF by offering support groups, medical education, pharmaceutical & medical equipment, and holistic treatment resources.  
If you would like to donate money to this wonderful lady and help the people needing real help then click the link below.
For more on  Christy's Courage Foundation click below find payment details there also
Look Here too, HOW TO DONATE, nothing goes to waste
http://christyscourage.org/HowtoDonate.html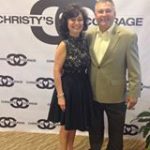 Christy Cook, story found here
http://www.birth-defect.org/ticking-time-bomb/
Awareness all year round. 
Click and Save. Right Click Save Image.