This UK Company are craftsman in their own rite, as your see. British craftsmanship at its best, and top of their field, shipping their hand made furniture around the world.
In 1982, Simon Brown and Steven Harman formed a business partnership, both having had a number of years' experience in the cabinet making trade. More than 30 years on, with thousands of creations gracing people's homes and offices across the world, we are still making furniture with passion and skill, but with even more experience under our belts. We couldn't do it alone of course. We are supported by a valued team of highly skilled and experienced craftsmen, who can produce tailor-made and individual pieces of furniture of exceptional quality. All the work we undertake for our clients is produced on our own premises.
Our projects often begin as an idea in a client's mind, influenced perhaps by an article in a magazine, an original piece of furniture, or a desire to create something completely different. It is our challenge to share and enhance your vision to create a stunning piece which exceeds your expectations.
Your furniture can be made in a large selection of woods and veneers and can be embellished with many other complementary materials, such as vellum, shagreen and leather to create the desired effect.We can upholster chairs and sofas in your chosen fabric using traditional methods such as stitch and stuff, and features such as hand-sprung seats and goose feather filled cushions to achieve the highest levels of comfort and quality. No matter how extraordinary and imaginative your vision of a room set or matching suite of furniture, we will move heaven and earth to interpret and fulfill the creation of your dreams.
All the furniture is made in our workshop, not half a mile from Glyndebourne. Come and take a look for yourself. You will see our craftsmen using not only traditional and proven skills, but also modern techniques. From selecting and machining wood, preparing and pressing veneer, inlay work, carving and turning, to construction and finishing, the piece of furniture evolves as it makes its way through the workshop. We supervise the production of all furniture to ensure that the highest possible standards are achieved.
EMAIL: info@brownandharman.co.uk
Website with much more photos if you're looking for the best start here.
http://www.brownandharman.co.uk/gallery/
~
Pyjama Fairies
COVERS UK ONLY
I first saw this on a UK Morning TV Show, and Personal would like to show support for this UK Charity. So I got in touch.
Pyjama Fairies was founded in May 2015 to bring comfort and support to young patients and their families in UK only Hospitals. We started with a simple goal: to create and distribute beautiful pyjamas and surgical gowns that give Children an emotional boost and remind them that are not defined by their illness. Our pyjamas are specially designed with a front opening to make dressing easier and to allow ease of access for the medical professionals. Our surgical gowns are made in beautiful, bright and fun fabrics so we can relive some of the fear that the children may have about going into hospital.
Pyjama Fairies is a registered charity and provides garments from premature babies to 16 years, BUT ONLY FOR UK.
For your First Order, you will be asked to pay £3 pounds as a donation to cover postage. (But remember this is a Charity)
If you would like to order for a child, please head over to their Website.
Click this PDF Below to download this Poster
http://wrappyjamafairies.co.uk/
Order Page
http://wrappyjamafairies.co.uk/order/
~
Greek Hotel link
Click to enlarge photo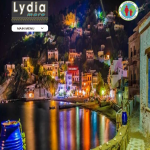 Our link shown on this website links back to our website. 
Ikaria is one of the largest islands of the Eastern Aegean.  Its geographical location is 37º35'41.42″ N – 26º09'30.88″ E, covering 255 square kilometres with a coastline of 102 km and its population being 6074 (2001 census). Administratively it is divided into two municipalities, the Municipality of Aghios Kirykos with 3243 residents and the Municipality of Evdilos with 2831 residents.
The third municipality of the island is mountainous and is named Raches, with 2200 residents. Its topography is very contrasting with its green slopes and bare, rugged rocks. Ikaria is mostly mountainous. It is crossed by the mountain chain of Atheros (Pramnos), of which the highest peak is 1040 meters. The majority of its villages are located in the valleys near the seaside and only a few are in the mountains. Ikaria has a tradition of producing a strong red wine (Pramnios Oinos, wine from Pramnos).
Many areas on the island are covered with big bushes, which give the landscape an image of rich vegetation. There are no rare animal species on the island.Besides the common types of animals, there are only a few flocks of sheep and goats called "raska" which break the silence of the island with the sound of the bells they have around their neck. The climate of Ikaria is mild.
Ikaria or Icaros as it was known during the classical years belongs to the Eastern Sporades, a group of islands along the coastline of Asia Minor, which was called Karia. 12 miles north- east from Ikaria stand the bare dominating cliffs of mount Kerkis of Samos, while in the south one can distinguish the little island of Patmos. Some miles to the east there are Fournoi, a complex of small islands, known in the classical years as Korsies. Geologically Ikaria is part of the formation that starts from Asia Minor, passes from Samos and extends to the Cyclades.
There is little arable land.The mountain chain ends up to the sea in the south, leaving very little land for cultivation, and this land is being utilised by the locals with the ancient technique of "pezoula". However, the ground is much flatter on the north side of the mountain. Kambos, – ancient Enoe- in the windward side of the island, is a well-watered small plain but in general, there is more vegetation in the north part of Ikaria compared to the south.
Ikaria has rich water supplies especially after the construction of the two dams on the mountain. Ikaria has 76,2 cm of rain yearly. The most rain falls between October and March. However, as the cold is modified due to the influence of the sea, winter looks more like autumn of North America or Europe, with only some colder periods.
Our apartments, located a few meters from the beach of Therma, consist of 10 one-bedroom apartments (studios). All apartments are autonomous, two and three beds each with a great view over the picturesque bay and sea. The apartments located on the first floor have balconies.
click photo to enlarge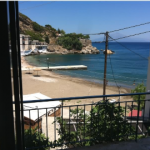 In just a few meters from our hotel, there are taverns and cafes where you can enjoy fresh fish and delicious local dishes.  The island's capital, Aghios Kirykos also the name of the port is situated 10 minutes from our hotel.Also, in walking distance from our hotel are the thermal spas, famous worldwide for the quality of the water and healing benefits.
The geography of Ikaria is unique and best featured in its coasts and mountainous locations. Most of the villages of Ikaria lay on the plains near the coasts and only a few villages can be found in the mountains. The pristine coastline displays a wide range of unique coves and beaches which have remained totally unspoilt. The great beauty of the island is its luxurious greenery and its abundance of spring water, which is forming streams, refreshing waterfalls, rivers and impressive gorges. Halari Gorge is the most famous trekking spot on Ikaria island.
ANCIENT ROMAN BATH HOUSE IN THERMA
The city of Therma is the principal region on Ikaria for organised hydrotherapy, and its reputation and history date from the Classical Period. "Natural" hydro- therapy is also popular on Ikaria. Along Ikaria's coastline, there are many areas where radioenergic hot mineral springs flow into the sea from the shoreline where it is possible for one to bath/swim. The hot mineral spring water pictured right is a popular natural bath in the area of Levkada.
For more info and stunning photos and booking forms etc click on the link below.
http://www.lydiamare.gr/en/ikaria-island-location
Gallery Photo's
http://www.lydiamare.gr/en/lydia-mare-apartments-gallery
~
Sinchies
Fancy starting a trend at your Child's School?
I came across this idea from watching a program on tv about the world's special forces, and what and how they eat, that started me looking for idea's on how you could send your child to school etc, with something you made and they could feel cool about doing, and not have your child or those around them feel nervous, or apprehensive, about eating, or the teachers wondering if something might stick. I think what your see on this website will help you and your child, meaning Young children can enjoy feeding themselves through the handy spout which allows them to suck or squeeze out their snacks and meals. Older children can participate in the preparation process, learning about healthy foods along the way. So check out Sinchies, which offers a versatile system of clear, reusable, eco- friendly, BPA free, plastic pouches used for storing and serving nutritious liquids, soft foods, without the preservatives and sugars found in most pre-packaged goods. Sinchies reusable food pouches are designed for feeding"on the run" with no bowl or spoon required. Homemade goodness with store bought convenience! You can also use these for tube feeding as well as seen on their website, You can monitor exactly what goes into the reusable pouch.
Sam Spunner wrote:
Lovely to hear from you! Yes, I would love for you to run this idea on your website in the UK – I think my product could change the life of so many of these patients. One mum recently wrote that with the help of Sinchies she can now give her son real food and not the pre-mix stuff you buy with a whole lot of ingredients you can't read. I am happy to set you up with an affiliates link if you like as I appreciate you spreading the word about my product. 
A huge congratulations for the massive achievement with your website – that is amazing. 
I think this product is great, and for being able to use with a tube feeding pump as well, must be worth looking into, I am told Sam Spunner will ship worldwide.
So what have you got to lose, give it a go, lets start a new craze in our Schools?
~
Healthy Financial Services
Scott Graham, in Brisbane, Australia
We assist people in gaining control of their finance. Through finding the most cost-effective finance and building and monitoring a personal spending plan, we can take the pain out of your personal finance and get your financially fit!
Whether you are looking to buy your first home, renovate, refinance or invest, we're here to negotiate the right home loan for you.
We start by meeting you at a time and place that suits you – at home, at work or over a coffee; during the week, at night or over the weekend – we're always flexible. We'll look at your current loans and financial circumstances and then research and find the right solution for you. We take care of the paperwork, manage the application process and then take it through to settlement.
~
Fill n Squeeze
You know its hard getting GOOD food into your child at school or out, we look at this idea, you can liquidize your own cooked food and place in a Fill N Squeeze packet ready for the day ahead. There is a video on their website on how.
 What an amazing journey you have been on and I would be delighted to help and support your cause.
Just to make you aware we also have the adult version of our feeding pouch
as well as
www.fillnsqueeze.co.uk for the children
Best wishes Rifat