Colon Interposition
Colon interposition is performed most frequently when the stomach is not suitable or available for use as an esophageal substitute. Possible reasons include previous gastrectomy, tumor involvement of the stomach, and synchronous gastric cancer. The general indications for esophagectomy are similar to those described elsewhere in this text and include esophageal cancer, end-stage motility disorders, and stenoses that have not responded to other treatments, and corrosive injury or trauma to the esophagus, or being born unable to swallow.
Esophagectomy is a surgery that involves removal of the esophagus and replacement of the esophagus by the stomach, the colon (large intestine) or, in selected cases, the small bowel. When the stomach is used to replace the esophagus, the procedure is called "esophagectomy and gastric pull-up."When the colon is used to replace the esophagus, the procedure is called "esophagectomy and colon interposition." When the small bowel is used to replace the esophagus the procedure is called "esophagectomy and jejunal interposition."
www.thoracickey.com/colon-interposition/
http://www.memorialhermann.org/digestive/esophagectomy/
.
How we treat tracheomalacia 2017
Esophageal and Airway Treatment Center | Boston Children's Hospital
Talked though by the World Famous Dr Jennings
.
Tracheomalacia and complex congenital airway problems released 11 Jan 2017
Tracheomalacia and complex congenital airway problems and treatment 
 Here on the 12th Jan 2017
By Dr Jennings
Surgical Grand Rounds Jan 11 2017 on Complex Congenital Airway Treatment by Dr Jennings and colleagues. In detail discussion of current treatments for tracheomalacia, tracheal compression, tracheal anomalies and vascular rings including aberrant subclavian artery, circumflex aorta and double aorta. He also discusses treatment for tracheal strictures with resection and slide tracheoplasty and slide bronchoplasty
.
Tracheomalacia 
Published on Nov 1, 2015
Severe Tracheomalacia Assessment and Treatment
VERY INTRESTING
Dr Russell Jennings explains the current diagnostic methods for children with noisy breathing, with a focus on tracheomalacia. He also goes into some of the current effective treatment techniques, including the posterior tracheopexy.
Watch the talk from Dr Russell Jennings: https://www.youtube.com/watch?v=YotyiMFLMM0&sns=em
~
EA/TEF Tracheomalacia Baby struggling to feed
Published on Jul 1, 2012 (Thank you to the Parents that posted this so we can show that from the struggle and first you as Parents will get though. Read the positive comments below) 
Baby ****** is about 7 weeks old here and had just come home from his first stay in the NICU after he was born 32 weeks preemie with an EA/TEF repair needed and NEC. He has tracheomalacia and laryngomalacia with extreme GERD. He ultimately had many 'blue spells' and one "blue death" resulting in Mommy resuscitating him at home and 2 subsequent Nissen Fudoplication surgeries and frequent hospitalizations for a host of bronchial and GI issues. A later video was also posted of the child older and much happier. This was a very difficult time for us, but if you are going through this … HANG IN THERE. They need TLC but will improve with time and are exceedingly happy to be alive.
https://www.youtube.com/watch?v=NA7qdN1P-sc
THANK YOU to the Parents
Anterior Tracheal Suspension 
Tracheomalacia (TM) is a disorder of the airway consisting of a weakness of the anterior tracheal cartilaginous rings and laxity of the posterior membranous trachea, resulting in dynamic airway obstruction. The clinical symptoms range from a chronic cough and wheezing to life-threatening apnea with cyanosis and profound airway obstruction (acute life-threatening events). TM in infancy occurs either in isolation or in association with a variety of anatomic conditions, including a wide range of congenital heart lesions, as well as primary tracheal and esophageal disorders. TM is also associated with chromosomal abnormalities, such as 22q11.2 deletion syndrome, and trisomy 21.
Severe TM is a life-threatening condition with reported mortality rates as high as 80%. Prolonged intubation and chronic positive pressure ventilation are particularly common in affected patients following reparative congenital heart surgery; in the most severe cases, tracheostomy is required. Although often life-saving in these patients, tracheostomy results in a high risk of medical, social, and developmental complications. Patients requiring tracheostomy are technology-bound until their anterior tracheal wall matures and they effectively outgrow their malacia. Most concerning, patients with tracheostomy and persistent severe TM remain at risk of sudden death, recurrent infections, and equipment failure.
Aortopexy has been accepted as the standard surgical treatment to alleviate TM associated with congenital heart disease and carries a success rate of 85 to 90%. In our experience, innominate artery-pexy coupled with aortopexy has been particularly effective in relieving TM secondary to isolated innominate artery compression. However, it has also been our experience that aortopexy alone has failed to relieve symptoms in a number of cases of more complex TM and tracheobronchial malacia.
For the rest of this REPORT Clink on the link as there are detailed photos to explain this
www.optechtcs.com/article/S1522-2942%2811%2900075-4/fulltext
~
Laryngomalacia
Newborn making abnormal sounds while breathing? Watch out, for it may be a case of Laryngomalacia that is the actual cause. Read and know all about the causes, symptoms, diagnosis and treatment options for this disorder.
Laryngomalacia Definition
It is a congenital malformation of the laryngeal cartilage, meaning it is present at birth. However, it is not a serious condition in the majority of cases.
This anomaly of the larynx is also referred to as "Soft Voice Box" or "Soft Larynx."
Laryngomalacia ICD9 Code
The ICD9 Code for this disease is 748.3.
Who Suffers from Laryngomalacia?
The condition is quite common in infants and young children although it may also arise in some adults. Older adults, particularly those suffering from weakened throat muscles due to neuromuscular disorders, can suffer from this disease. However, the disorder is much more common in infants.
Laryngomalacia Symptoms
A person affected by this disorder tends to make abnormal noises, especially a whistling sound (stridor) while breathing. Stridor refers to a high-pitched noise that can be heard when a child breathes in (inspires). It can sound like snoring through a congested nose or high-pitched squeaking. In some cases, the sound is audible to anyone present near the sufferer. In the rest of cases, the noise can be heard only with the help of a stethoscope.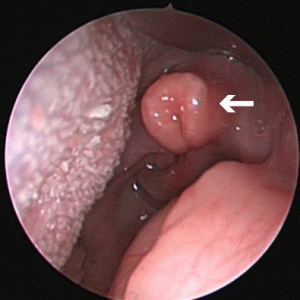 Picture 1 – Laryngomalacia
In some infants, the area at the throat base can be found to sink in with inspiration. In others, the region under the diaphragm is observed to drop.
While stridor is mainly audible during the inspiration of infants, it can also be heard at the time of expiration (breathing out).
Some other features of the condition include: Click Link
http://www.primehealthchannel.com/laryngomalacia.html
Laryngopharyngeal Reflux
https://www.verywell.com/laryngopharyngeal-reflux-lpr-1742320
MORE INFO
Laryngomalacia is the most common cause of stridor in newborns, affecting 45–75% of all infants with congenital stridor. The spectrum of disease presentation, progression, and outcomes is varied. Identifying symptoms and patient factors that influence disease severity helps predict outcomes. Findings. Infants with stridor who do not have significant feeding-related symptoms can be managed expectantly without intervention. Infants with stridor and feeding-related symptoms benefit from acid suppression treatment. Those with additional symptoms of aspiration, failure to thrive, and consequences of airway obstruction and hypoxia require surgical intervention. The presence of an additional level of airway obstruction worsens symptoms and has a 4.5x risk of requiring surgical intervention, usually supraglottoplasty. The presence of medical comorbidities predicts worse symptoms. Summary. Most with laryngomalacia will have mild-to-moderate symptoms and not require surgical intervention. Those with gastroesophageal reflux and/or laryngopharyngeal reflux have symptom improvement from acid suppression therapy. Those with severe enough disease to require supraglottoplasty will have minimal complications and good outcomes if multiple medical comorbidities are not present. Identifying patient factors that influence disease severity is an important aspect of care provided to infants with laryngomalacia.
http://www.hindawi.com/journals/ijpedi/2012/753526/
There is a FaceBook Group for this
https://www.facebook.com/LoveForMalaciaBabies
Q-A Help
http://www.babycenter.com/400_babies-with-laryngomalacia_13357800_926.bc
Bronchitis
For more on Breathing go to this page to
http://www.birth-defect.org/breathing-with-tof-and-tef/
~
Bronchitis – acute
Acute bronchitis is swelling and inflammation in the main passages that carry air to the lungs. The swelling narrows the airways, which makes it harder to breathe. Another symptom of bronchitis is a cough. Acute means the symptoms have been present only for a short time.

Bronchitis is an inflammation of the airways in the lungs. The main tubes that air flows through in the lungs are called bronchi, and branching off them are smaller tubes called bronchioles. When these tubes become inflamed it causes narrowing, constriction, and blockage of the airways, which leads to symptoms of bronchitis. Bronchitis can be acute, lasting less than six weeks, or chronic.
What Causes Acute Bronchitis?
Acute bronchitis is caused by upper respiratory viral infections in 90% of cases; the other 10% of cases are caused by bacterial infections. When acute bronchitis occurs, it almost always comes after having a cold or flu-like illness. The bronchitis infection is caused by a virus. At first, it affects your nose, sinuses, and throat. Then it spreads to the airways that lead to your lungs.
Sometimes, bacteria also infect your airways. This is called a secondary infection.
Chronic Bronchitis
Chronic bronchitis is a recurrent disorder where there is chronic inflammation, swelling, and narrowing of the airways. It is defined as a cough with production of mucus (sputum) for at least a 3-month period, for two years in a row. Chronic bronchitis is usually the result of lung damage from chronic medical disorders.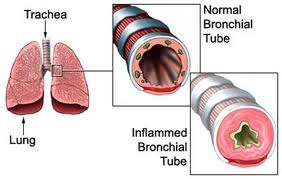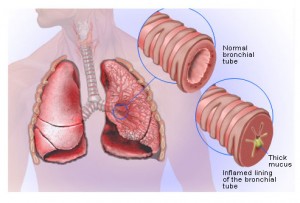 What Causes Acute Bronchitis?
Acute bronchitis is caused by upper respiratory viral infections in 90% of cases; the other 10% of cases are caused by bacterial infections.
Symptoms of bronchitis may include:
Shortness of breath

Cough

Production of mucus (phlegm)

Wheezing

Fever

Fatigue
When Should I Call My Doctor About Bronchitis?
If bronchitis is suspected, contact a doctor if the following symptoms occur:
Shortness of breath

Chest pain

High fever

Coughing up blood

Throat swelling

Wheezing

Symptoms that worsen or last longer than 2 weeks, for a small child best to get checked out as soon as you can
Can Bronchitis Be Treated At Home?
If symptoms of bronchitis are not severe, home remedies include:
Drink plenty of fluids

Take over-the-counter fever-reducing medications such as aspirin, acetaminophen (Tylenol), ibuprofen (Advil, Motrin), naproxen (Aleve) 

if advised by a Doctor

PLUS

 Do not give aspirin to children.

Get plenty of rest

Use a humidifier or steam in the bathroom.
How Is Bronchitis Diagnosed?
Bronchitis is generally diagnosed by a doctor taking a medical history and performing a physical exam. Usually, no additional tests are needed. In more severe cases of bronchitis, or in cases of chronic bronchitis, a chest X-ray, blood tests, or pulmonary function testing may be needed. Certain medicines that you can buy without a prescription can help break up or loosen mucus Ask the pharmacist if you need help finding it. If your symptoms do not improve or if you are wheezing, your Doctor may prescribe an inhaler to open your airways.
If your doctor thinks you also have bacteria in your airways, he or she may prescribe antibiotics. This medicine will only get rid of bacteria, not viruses. Sometimes, bacteria may infect the airways along with the virus. If your doctor thinks this has happened, you may be prescribed antibiotics. Sometimes, corticosteroid medicine is also needed to reduce inflammation in the lungs.
Except for a cough, symptoms usually go away in 7 to 10 days if you do not have a lung disorder.
When to Contact a Medical Professional
Call your doctor if you:
Have a cough on most days, or have a cough that keeps returning

Are coughing up blood

Have a high fever or shaking chills

Have a low-grade fever for 3 or more days

Have thick, yellow-green mucus, especially if it has a bad smell

Feel short of breath or have chest pain

Have a chronic illness, like heart or lung disease
Even after acute bronchitis has cleared, you may have a dry, nagging cough that lasts for 1 to 4 weeks.
Sometimes it can be hard to know you have pneumonia or bronchitis. If you have pneumonia, you are more likely to have a high fever and chills, feel sicker, or be more short of breath.
Pneumonia
READ HERE ON THIS WEBSITE THE STORY OF A YOUNG CHILD'S FIGHT WITH Pneumonia …….. Flown across Australia BY THE AIR DOCTOR'S …
www.birth-defect.org/from-the-heart/
Pneumonia is inflammation or infection in one or both of the lungs (sometimes called a chest infection). Pneumonia in children can be caused by viruses or bacteria. Viruses are the most common cause of pneumonia.
Due to the infection, the small airways in the lungs become swollen and make more sticky fluid (mucus). This blocks the airways and reduces the amount of oxygen that is able to get into the body. Pneumonia can affect one part (lobe) of the lung or all of the lung.
The doctor will determine if your child has pneumonia by asking you questions and examining your child. Blood tests are sometimes helpful to find the likely cause of pneumonia (i.e. bacteria or virus). An X-ray of your child's chest can confirm the diagnosis. If your child has pneumonia the X-ray will show fluid (consolidation) in the lungs.
Pneumonia often comes after a respiratory infection, such as a cold or flu. Most children with pneumonia get better quite quickly and completely.
Signs and symptoms
Signs and symptoms of pneumonia vary depending on your child's age and the cause of pneumonia.
Children often have one or more of the following:
high fever;

fast and/or difficult breathing – your child's breathing will become hard work and you can often see the ribs 'sucking in' when they are breathing;

cough;

vomiting;

be irritable or more tired than usual;

pain in the chest, especially when coughing;

tummy (abdominal) aches or pain.
Most children refuse to eat. This is often concerning for parents but remember that your child will begin to eat again once they feel better. It is important to give your child fluids to prevent dehydration.  Offer small sips of water and offer babies the breast or bottle more often.
Treatment at home
Most children with pneumonia are able to be treated at home.
They will need a lot of rest.

They need to drink small amounts of fluids often so they do not get dehydrated.

They may be more comfortable sleeping propped up on a couple of pillows, rather than laying completely flat.

If your child has chest pains they may need some pain relief, such as paracetamol (e.g. Panadol).

Do not give cough medicines. They do not help children with pneumonia.

Smoking around your child should be avoided at all times.
Bacterial Pneumonia – If your child's pneumonia is caused by bacteria they will be given an antibiotic medicine to take. Children with bacterial pneumonia usually improve a lot within 24 to 48 hours of starting antibiotics. Their fever will come down, they will have more energy and their breathing will become easier. They may, however, continue to cough for days to weeks. It is very important to complete the whole course of antibiotics, even if your child seems remarkably better. Treatment will continue for seven to 10 days.
Viral pneumonia – Antibiotics do not cure viruses and are not given for viral pneumonia. Recovery is usually slower, over two to four weeks.
Treatment in hospital
Some children with pneumonia need to be admitted to hospital. This is usually if they:
are less than one year old;

are not able to take medicine by mouth;

have become dehydrated;

have severe breathing problems.
While in hospital your child will be watched closely and the following treatments may be necessary:
Antibiotics might be given directly into a vein through a drip (intravenous or IV). These will only be given if the pneumonia is thought to be bacterial.
Some children may need oxygen to help them to breathe more easily.
Children who are dehydrated will need to be given fluids by a drip (intravenous or IV therapy).
When to come back
You should contact a doctor if your child is being treated for pneumonia and:
their breathing becomes more difficult;

they become more drowsy or sleepy, or are hard to wake;

they are continuing to vomit and are unable to drink much;

you are worried about your child at any stage during the illness or you have other questions.
Some children need to be checked after a few days. Your doctor will tell you when to come back.
About six weeks after the illness your child will need to see a doctor to make sure that they have had a complete recovery.
Prevention
Keep your child up to date with their immunisations. Yearly flu shots may be beneficial in some children.  Your family doctor can give you more advice about flu shots. 

Teach primary school aged children not to share eating or drinking utensils, toys and food or drinks with other children. This is difficult to do in young children, especially in créche, childcare or kindergarten, as they often put shared toys in their mouth.  Immunised children will have a much smaller risk of becoming infected with pneumonia in these instances.

Teach children to wash their hands after coughing or sneezing to prevent the spread of germs.
Key points to remember
Most children with pneumonia recover quite quickly and completely.

If your child has pneumonia they will need to rest and drink small amounts of fluid often.

Cough medicines do not help children with pneumonia.

It is very important to complete the course of antibiotics if they have been prescribed.
~
July 7, 2015
Antibiotic efficacy is linked to bacterial cellular respiration
Bacteriostatic and bactericidal antibiotic treatments result in two fundamentally different phenotypic outcomes the inhibition of bacterial growth or, alternatively, cell death. Most antibiotics inhibit processes that are major consumers of cellular energy output, suggesting that antibiotic treatment may have important downstream consequences on bacterial metabolism. We hypothesised that the specific metabolic effects of bacteriostatic and bactericidal antibiotics contribute to their overall efficacy. We leveraged the opposing phenotypes of bacteriostatic and bactericidal drugs in combination to investigate their activity. Growth inhibition from bacteriostatic antibiotics was associated with suppressed cellular respiration whereas cell death from most bactericidal antibiotics was associated with accelerated respiration. In combination, suppression of cellular respiration by the bacteriostatic antibiotic was the dominant effect, blocking bactericidal killing. Global metabolic profiling of bacteriostatic antibiotic treatment revealed that accumulation of metabolites involved in specific drug target activity was linked to the buildup of energy metabolites that feed the electron transport chain. Inhibition of cellular respiration by knockout of the cytochrome oxidases was sufficient to attenuate bactericidal lethality whereas acceleration of basal respiration by genetically uncoupling ATP synthesis from electron transport resulted in potentiation of the killing effect of bactericidal antibiotics. This work identifies a link between antibiotic-induced cellular respiration and bactericidal lethality and demonstrates that bactericidal activity can be arrested by attenuated respiration and potentiated by accelerated respiration. Our data collectively show that antibiotics perturb the metabolic state of bacteria and that the metabolic state of bacteria impacts antibiotic efficacy.
Bacteriostatic antibiotics inhibit cell growth whereas bactericidal antibiotics induce cell death. Classifying an antibiotic as bacteriostatic or bactericidal is based on an operational in vitro test, which offers a limited perspective on the physiologic activity of the antibiotic. Although the clinical value of bactericidal activity in the treatment of infection is a point of debate, evidence supports a preference for bactericidal antibiotics for certain high-risk infections. The use of antibiotic combinations to treat bacterial infections is increasingly common, but the predictability of this approach is limited. It is well-known that bacteriostatic –
bactericidal combination treatments result in attenuation of bactericidal activity in vitro across a range of drugs and organisms. Clinically, this effect can have negative consequences in high morbidity infections like meningitis, or positive effects by inhibiting lysis and exotoxin released in toxin-mediated syndromes (21, 22). How bacteriostatic antibiotics can block bactericidal lethality, however, is not well-understood.
Recent lines of evidence have suggested that antibiotics induce cellular metabolic shifts as a secondary response to their target interaction. The generation of antagonistic metabolic responses may be one possible means by which bacteriostatic and bactericidal antibiotics interact. The predominant cellular process targeted by bacteriostatic antibiotics is a translation, which is thought to account for a major portion of the energy consumption in the cell at steady state. Consequently, disruption of this process may cause significant changes in cellular energy dynamics. In support of this notion, the proteomic response to the bacteriostatic antibiotic chlortetracycline involves downregulation of major metabolic pathways, potentially suggesting a reduction in metabolic rates. In comparison with the bacteriostatic response, evidence suggests that bactericidal
agents may increase cellular metabolic rates and that bactericidal antibiotic efficacy may relate directly to the metabolic state. The regulation of genes involved in central metabolism and respiration.
Significance
The global burden of antibiotic resistance has created a demand to better understand the basic mechanisms of existing antibiotics. Of significant interest is how antibiotics may perturb bacterial metabolism, and how bacterial metabolism may influence antibiotic activity. Here, we study the interaction of bacteriostatic and bactericidal antibiotics, the two major phenotypic drug classes. Interestingly, the two classes differentially perturb bacterial cellular respiration, with major consequences for their intrinsic activity both alone and in combination. Of note, bacteriostatic antibiotics decelerate cellular respiration, generating a metabolic state that is prohibitive to killing. Further, we show that the efficacy of bactericidal drugs can be improved by increasing basal respiration, and we identify a respiration-related drug target that potentiates the activity of bactericidal antibiotics.
www.pnas.org/content/112/27/8173.full.pdf
~
5 Types of EA -OA
Types of EA or OA
The Federation of Esophageal Atresia and Tracheo-Esophageal Fistula
There are 5 types of EA or OA The types are found below, without Sue lewis-Jones from a UK Charity sending us this link back in 2013 when this website was put together, since then has grown to what you see now, two year's on we are raising awareness for these conditions. We thank Sue for her help.

www.we-are-eat.org/tell-me-about-esophageal-atresia/types-of-ea/
From Sue Lewis-Jones Trustee of a UK Charity
Isolated EA
(Gross type A, Vogt type 2)

Pure Esophageal Atresia, with no TEF.About 8% of EA patients have this type (which is also known as Gross type A, or Vogt type 2).

EA with Proximal TEF
(Gross type B, Vogt type 3A)

EA, with a proximal TEF, or a TEF connecting between the upper pouch of the oesophagus and the trachea.This is rare, with only about 0.8% of EA patients have this type. With this type of EA, food and saliva can travel directly into the lungs, before surgical correction is performed

EA with Distal TEF




(Gross type C, Vogt type 3B)

.EA, with a distal TEF, or a TEF connecting between the lower pouch of the oesophagus and the trachea. This is by far the commonest type of EA, with about 89% of EA patients having this type.With this type of EA, gastric contents and acid can travel directly into the lungs, before surgical correction is performed.

EA with Dual TEF's (Gross type D, Vogt type 3C

)

Dual TEF, where there is both a TEF connecting between the upper pouch of the oesophagus and the trachea and a TEF connecting the lower pouch of the oesophagus and the trachea. This is rare, with only about 1.4% of EA patients have this type.

H-type TEF (no EA) (Gross type E)

H-Type TEF, where there is a TEF connecting between the oesophagus and the trachea, but there is no EA.Children with an H-Type TEF, unlike the other types, are often diagnosed later in infancy or childhood (and rarely as adults), rather than becoming evident shortly after birth. People with an H-type TEF can swallow, but often cough and choke during swallowing, especially with liquids, and may present with recurrent cases of pneumonia. The exact prevalence of this form is not known (because they tend to be diagnosed late), but is thought to be about 4% (this is known as Gross type E).
Save
Save
Save
Save
Save
Save