Welcome to my page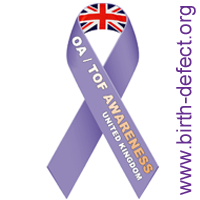 Find Your Counties Flag here to fit your Facebook Photo Square for Awareness, and showing others where you are from.
With the Help of My contact in the USA, Sue Paul a Widow of a Guy who like me was born unable to swallow, we put together a survey linked up with a leading USA research hospital and launched the Survey, Giving Sue Paul and Myself Two USA Medical Papers, as Authors, this website was also listed. 
I have also Personally been involved is helping Parents across the world find Families near them, linking them up with Surgeons allowing their Child get the help it needed. The Website even made it onto USA TV for doing just that, the link can be found below. I hear people say, no one knows about my Childs Condition? Well trust me because you can see a little of what I am doing on site, but it's not what you see that matters it's what you don't see that counts.
PLEASE also sign up for the DNA Study found on the front Page on this site, plus the Survey found on the front page just under our group details. 
If you wish to write your own story of your Child in your own Language then get in touch I will run it on the Website, maybe it will give hope to others in your Country.
Click on the red writing below, see where the link sends you, there will be an advert first, keep watching
http://www.birth-defect.org/pediatric-minimally-invasive-surgery-surgeon/#makes-usa-tv
My Facebook account is locked to anyone, not on my friend's list
My Facebook page:- https://www.facebook.com/profile.php?id=100004980497666
INTRO
Born in 1962 unable to swallow so before we start, let me explain why I know my condition as tofs, when I was born and growing up all my Doctors, have always called it this, and that is because a (tof) (was linked to a heart condition) watch this video below so you can understand better.
Tetralogy of Fallot (TOF)
https://www.youtube.com/watch?v=uHv2RHnTpJg?rel=0
Your see on my Sisters write up, Below, there is a photo of a medical report dated 1958, I was born in 1962, I can't change what I was brought up knowing this condition as, so that is why I use the word tofs when explaining it.
I found this piece of paper the other day, it has my Mothers Writing on it, this is what I had to carry with me at all times in my early teens and twenties. 
unable to eat
What is a stricture?
It is a narrowing in the oesophagus, usually due to scarring at the join, between the two ends of the oesophagus. Typically, symptoms develop within a few weeks or months after the baby's oesophagus has been joined up, this I have read is called, the anastomosis stricture. Occasionally,  a structure develops lower down in the oesophagus and may be caused by gastro-oesophageal reflux. I have read that it is rare children with TOF/OA or EA-TEF are born with a stricture in the lower oesophagus and this is a congenital stricture. Anastomotic strictures are more likely when the join-up of the oesophagus was difficult because of the wide gap between the two ends. If the join is under tension, the blood supply to the join site is impaired and it tends to heal as a tougher and more fibrous scar. And to make matters worse, Strictures are believed to be worsened by gastro-oesophageal reflux, acid from the stomach can damage the join in the oesophagus, and can lead to more scarring.
As a baby, I was slower to feed and choked and spluttered, while being feed. This was not a 'one-off' episode but happened with each feed.  A structure can be successfully treated by stretching it up (called a dilatation). This is nearly always done under anaesthetic, it was for me, the surgeon, and his team, would pass a telescope (called an endoscope) down through the mouth to the level of the structure, more on this can be found on this website, with video's etc. (I was always told, you need to be scoped, funny what you remember)
As you can see from the photo above with my Late Mothers writing on it, this gave any Doctors I came in contact with the same idea of what I had, as you will read lower down it must have come in handy for them.
Welcome to my story page
Life as a whole has been hard, but I have always been able to see the funny side of life, having spent a lot of time on a hospital ward its given me life skills that I may never have had. The ability to just talk to complete strangers, the ability of noticing what is around me, as a youngster I always knew where the pillows or blankets were kept, and how to get off the ward without being seen, a quick nip down to the local shop came in handy at times, because hospital food in the metal bowls was kinda yuck.
Watching my Father walk into the local village chemist and pick up tablets when I couldn't swallow tablets, waiting till he had returned to the car and then telling him, Daddy they are wrong…
The none understanding of the fact I was born unable to swallow, that I really hated to eat much full stop. I remember being about 6 and Mum farmed us out to a childminder, I swallowed something that stuck, so thinking she knew better gave me dried bread to help it go down, of course, it made it worse. When I look back at what my Parents must have gone through bringing me up, but we laughed our way through it. I remember my early school days, yuck, I struggled with most things regarding school, the only good thing I was good at was making others laugh, yes, I do have a funny sense of humor.
Now school and apples, and what the teachers didn't know. I loved apples but I couldn't eat them with skin on, but as a child you learn how to cope with things others can't do, I learnt from a young age how to bring food back up that was stuck, or force air or water down to clear whatever was stuck, teachers didn't know this, worked in my favor most of the time when school lunch was with apples. Sometimes it did go wrong as these things tend to do.
Once in my twenty's (20's) I got something stuck, so as you do work comes first as I had a mortgage to pay, after working all day and also trying every trick I knew to clear it, I finally had to give in and go to hospital and ask for help, now this young female doctor called my name, I said hi I was born in 1962 with the condition called tofs, and I have something stuck, she replied, no you can't have that condition your to old… she got a cup of water and said drink. After I'd drunk it she said off you go nothing wrong with you, you know when you're lost for words, well I was and I left the hospital. Now I am a stubborn sod, as my dad would say, three days later same Dr they put me on the award. On a Friday having been there 3 days I was asked if I would like to spend the weekend at home because they might need my bed??? Monday I returned put back on the same ward, the young Dr came around as said they had set up a barium meal X-ray, I said that I wanted her there to view what was going to be seen, she laughed saying yeh yeh.
Barium meal, that was like swallowing chalk, later on, they would add flavoring, that was so your brain told your stomach something nice was coming. Anyhow so from behind the screen you heard OMG what is that stuck there, from the young Dr, my reply being is chestnut from my last meal 9 days ago being a Chinese takeaway. I spent 10 days in total in the hospital because a Dr said I couldn't have the condition known then as tofs.
As you see lower down I worked in England's biggest man-made marina for 16 years in the boatyard, I got to know the Dr I was under at the hospital, so one day I asked him something, when I found him on a pontoon checking his yacht in bad weather, Sir, I have an idea, how about you look after me by seeing me fast if something stick's and for that I will make sure your yacht is always tied up well in storms, that was a fab idea and worked really well, until I left and he retired.
On this website you will of already read how and why this site came about, on the PDF page there are many free to download and use idea's, to help bring awareness at a low cost to you these are the car sticker idea I had. 
The rear of a car.
Side Window, see how they stand out. Print yours from the PDF page for FREE.
These are key rings we used to sell on this website, using two website addresses, both linking you to this site. We don't sell them now.
Look Our new Car Sticker, get your printers to download the PDF file and use it however you like.
The Website Logo I turned into Car Stickers and posted 500 free across the world to those that asked for one, you to can by right-clicking the logo on the FRONT page on site and saving it.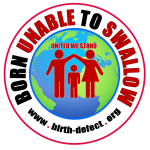 Link to the PDF page where it's free for you to download and use item's found there.
 http://www.birth-defect.org/pdf-files-tof-oa-ea-tef/#car-stickers
This is the name of this website now (Birth-defect) and now covers everyone.
I hope this give's you an insight into being born unable to swallow in 1962, enjoy the rest of my story page…..
Just something I would like to add about a beef burger and a white bucket, you see in my late teens I moved in with my Nan as my Parents had moved away from my Fathers job, I had a job building high-class sailing yachts, and at 19 was buying my first home, Nan said I could live with her until my home was mine.
It was a normal night out on a Saturday with a few mates, I remember being on a bus in Brighton, one of my friends said let's have a burger……… well yep you guessed it, it got stuck, when I got back to my Nan's house I was able to push it down, 20 minutes later i coughed up small amount of blood, which then turned into a rush in Nan's bathroom, there was so much it even blocked the sink, Nan didn't panic, unlike myself, she called for an ambulance, and two turned up??
I was rushed into Brighton to a smaller hospital, not the main one, out the corner of my eye I could see my Nan carrying a white bucket, it looked heavy too, god only knows what she had put in it. In the hospital the nurses took me into a side room to yes you guessed it, to take blood, the nurse said your Nan can wait outside, then I said I don't do needles to which the Nurse said you can cuddle me if it helps, I thought, result lol
Nan later said she just heard a loud bang, I'd fainted taking the Nurse and table and me to the floor. I was transferred from that hospital to main one and back 4 times, to cut a very long story short I spent the worse part of my life throwing up blood for the next few weeks, I spent 9 weeks in the hospital. I don't eat burgers now either, on the flip side of this nightmare, the Drs found I had something that I then had to take tablets for that, they tasted like chalk, for 3 years, 4 times a day. They had found a hiatus hernia. It wasn't till I was fully on the mend yet still in hospital I asked Nan what on earth she was carrying in that white bucket.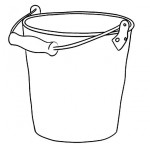 Yes the white bucket, she answered,  the blood from my sink from you. I thought you might have needed it. (shock works in funny ways) whenever I see a white bucket I always smile. xx R.I.P Nan
If you ever wonder why you had a child with a condition then go read Three Angels on the Parents page on this site, link below.
http://www.birth-defect.org/ea-tef-tof-oa-stories-from-parents/#three-angels
And maybe children pick their Mothers? Click here and make sure you can hear the music and hear every word of this lovely song.
Meet Your Mum song
https://www.facebook.com/donnataggartcelticlady/videos/1160386870671263/
~
Born unable to Swallow
My Name is Steve Wyles.  (Find me on Facebook)
 My Story Born in 1962 unable to swallow
Before you start to read this, can I make the point that as a baby, having the two ends of your Oesophagus joined, does not mean your fixed and that's the end of it…. for most children and adults born with this condition, no way have you been cured…..
Take it from someone who knows, l was born in 1962 and still struggle to swallow with every meal. As a child l hated eating, because it hurt, and if food got stuck it meant l was taken back into the hospital. As is the case at my ripe old age, if i can't clear the blockage, its back to Hospital I need to go.
So my advice to anyone who knows a child who was born unable to eat….. GIVE EM A BREAK, it's hard going as a kid with this condition, and for family, made harder by those around them who think once you're …… fixed you're CURED……….IF ONLY. 
I was born in Lyndhurst in New forest in England on 10/8/1962, back in the day when surviving an operation to re-arrange your feeding tube and your windpipe was kinda rare. I was there for a few days when it became clear that something was far from OK.
Every time I was fed I would choke it back up.
I was rushed to the Children's Hospital in Southampton, were the Surgeons, were general Surgeons back in those days. They found out I had something they called T.O.F. a/o. My feeding tube that should have gone down to my tum, was attached to my windpipe, and windpipe attached to my belly. This caused me to cough like mad when feeding.
From what I have been told, the op to swap everything back to how it should have been took hours. Well, someone has to be different I guess…   I now have what is like an hourglass in the middle of the tube running down to my tum. Every meal sticks at the point of repair as there are no muscles to push it downwards.
I have spent most of my life up to the age of 29 in and out of Hospital, having things stick. Plus while growing you find the structure area gets narrower, and this had to be made wider, to allow food to pass through, this area, I found after the op, I'd eat tubs of ice cream, and suck on ice cubes, I found the cold helped with the soreness.
It was fun at school when the other kids would say, "I Bet I got the biggest scar!"
Yeah right. Mine looks like a shark has had a go. I even have a few holes (drain holes). I used to tell people a shark had me, and they shot at it but hit me… Fun to tell on the dive boat when I'd scuba dive. Some of the looks were priceless.
Anyhow enough about me. So you ask, why have I set up this website? Throughout my life in and out of the hospital, I never meet or was told about any other person who had this thing called TOF/AO. I just plodded on in my own way thinking l was on my own, until, one day when l was 48 years old and while talking to someone I'd known for over a year…….. yes a year….. we realized we had the same health condition. We were both born TOFS. She had 'long gap' which meant in her case, less time spent in the hospital, unlike me with the 'short gap'. Lucky lady…
This Photo is like the wards I was on, growing up, play tables in the middle of the room, and a TV at one end of the ward. Black and White TV.
Student Nurse 1960
Matron and Nurses, 1960's
As a child going in out of Hospital there was no messing around, the Matron was in charge of the ward, and the Nurses cleaned the wards, and they were spotless.
One memory I have is having to lay in a bath made of metal filled with water and salt was added, to help heal any open cuts I may of undergone, that had stitches on, I had to lay in bath till the water went cold……. might be why I hate cold water, who knows. 
I was brought up being told that I was born with Tracheo-Oesophageal Fistula, and because of the op to rejoin the two ends, it there forgave me the (structure) I call it my hourglass effect, (where the hour-glass sand trickles through the narrowing) I was brought up knowing my condition was called tofs.
The name's of the Two Surgeon's that saved my life are as follows, I never got to thank them.
Surgeon Tom Round-tree and Surgeon Mr. Richardson Southampton Children's Hospital. (Stephen Wyles) UK  1962
I now hold two USA Medical Papers, and here you can see them, also your see who supports my work on this site, looking around the main page you will see that this site has high-level support from different area's that might just surprise you.