What is Spina Bifida
Children born unable to swallow can also have this condition
Watch this Lovely Video
https://www.youtube.com/watch?v=pQSlA2uIs6I&feature=youtu.be
Spina bifida is when a baby's spine and spinal cord don't develop properly in the womb, causing a gap in the spine. read more here click the link below. Spina bifida is a type of neural tube defect. The neural tube is the structure that eventually develops into the baby's brain and spinal cord. In spina bifida, part of the neural tube doesn't develop or close properly, leading to defects in the spinal cord and bones of the spine (vertebrae). here are several different types of spina bifida, including.
myelomeningocele – is the most severe type of spina bifida.
meningocele – is another serious type of spina bifida.
spina bifida occulta – is the most common and mildest type of spina bifida.
https://www.nhs.uk/conditions/Spina-bifida/
Spina Bifida Blog 2018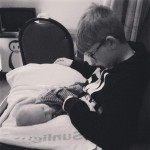 This is a New Blog from a Parent living with a child with this condition, the Lady has become a Friend and I kinda talked her into doing this, because I have seen a few negative post's on you-tube I felt this lady could give her account better.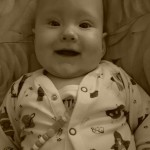 Spina Bifida from a Parents point of view
https://superbifida.wordpress.com/
.
PTSD in Parents of Child
Published: March 8, 2016 
Post-traumatic Stress Reactions in Parents of Children Esophageal Atresia
 The link below takes you to the full report with charts etc lots of info
The aim of this study was to investigate psychological stress in parents of children with esophageal atresia and to explore factors associated with the development of Post traumatic Stress disorder (PTSD).
Self-report questionnaires were administered to parents of children with EA. Domains included: (1) socio-demographic data, current personal difficulties, assessment scales for the quality of life and for the global health status of the child (2) French-validated versions of the Perinatal Post traumatic Stress disorder Questionnaire and of the State-Trait Anxiety Inventory. Associations between PTSD and severity of the neonatal course, presence of severe sequelae at 2 years of age, and quality of life and global health status of children according to their parents' perception were studied. 
http://journals.plos.org/plosone/article?id=10.1371/journal.pone.0150760
Croup
Croup is a type of upper respiratory infection that causes a bark-like cough. The condition most commonly affects children and does not usually cause complications. Croup is a breathing problem medically called Laryngotracheobronchitis. It caused by viral infection, allergy, bacterial infection, and acid reflux.
However, in rare cases, croup can become serious enough to block the airways and prevent normal breathing. Croup symptoms usually last no longer than five days and resemble cold-like symptoms when the infection first begins. Symptoms caused by the condition are the result of inflammation of or around the vocal cords and windpipe.
It starts as a mild cough and gradually turns severe and sounds like seal barking. The child may not be able to sleep properly at night with shortness of breath. Unfortunately, croup symptoms are often worse at night and are easily made worse by crying, fussiness and coughing, which can make the condition very difficult to deal with for both you and your child. Fortunately, however, croup infection typically clears on its own in a matter of days and requires no treatment unless the child is having persistent breathing troubles. During the course of a croup infection, the most effective treatment is to make your child comfortable and calm to prevent excessive coughing. Encourage the child to sleep often and keep them hydrated. Because of inflammation of the airways, the child may make a noticeable whistling noise when taking in air. In some cases, croup may also be accompanied by fever, sore throat and hoarseness.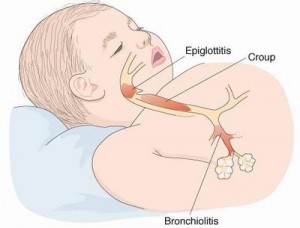 Treatment is given based on the intensity of the disease. It can be managed by home remedies if it is mild cough. Do not give cough medications without consulting your doctor. In case of breathing difficulty, the doctor may want to hospitalize the child for putting him on artificial respiration. (Worse case) as there might be swelling in the upper respiratory tract.
If you have older children, offer them foods that will ease their sore throat, like something cold, or warm like soup or a ice cream. It may also help their breathing if they sit in an upright position, you might need to hold them. Do not hesitate to see your child's doctor if their croup symptoms become worse, remember your child has to come first. However, if your child has severe croup, they will need to be admitted to hospital urgently.
http://diseasespictures.com/croup/
Treating croup 
Treatment of croup depends on how severe the symptoms are. Most cases are mild and can be managed at home.
Treatment at home
If your GP thinks your child has mild croup, they will usually recommend managing it at home. This will often involve using children's paracetamol to ease any pain associated with the condition and may help lower your child's temperature if they have a fever. You should also ensure your child is well hydrated by encouraging them to drink plenty of fluids. Comforting your child is also important because their symptoms may get worse if they are agitated or crying. If your child is distressed, sitting them upright on your lap will help to comfort and reassure them.
Your GP UK will usually prescribe a single dose of an oral corticosteroid medication called dexamethasone or prednisolone to help reduce swelling (inflammation) in your child's throat. Side effects of these medications can include restlessness, vomiting, upset stomach and headache.
Steam treatment is not advised for the treatment of croup. There is no evidence that allowing your child to breathe in humid air, for example steam from a hot bath or shower in a closed room, will help. You should seek urgent medical advice if you notice your child's symptoms getting worse.
http://www.nhs.uk/conditions/Croup/Pages/Treatment.aspx
~
Evaluation of aortopexy in the management of severe tracheomalacia after esophageal atresia repair
Article first published online: 22 JAN 2014
Summary
Severe tracheomalacia (TM) is a difficult problem in esophageal atresia (EA) patients. We reviewed our experience with aortopexy and other interventions for severe TM in this population. With review ethics board approval, a retrospective review of TM in postoperative EA patients was conducted (1989–2010). Demographics, perinatal, and surgical information regarding EA repair was collected. TM infants were analyzed for symptomatology, clinical severity, investigations, interventions, and outcomes. Data are presented as proportions or median(range). One hundred and thirty-two EA patients were reviewed. Most had type C atresia (87.3%), and 18 patients (13.6%) died. Twenty-five patients (18.9%) had TM of whom five (20%) died. Median symptom onset was 18 days (0–729) after EA repair, with stridor (64%) or retractions/distress (44%) being most frequent. Four and two patients had airway obstruction or cardiorespiratory arrest, respectively. Median time from symptom onset to investigations was 11 days; these were most commonly rigid bronchoscopy (56%) and fluoroscopy (36%). Ten patients (40%) had severe TM on bronchoscopy. Six underwent aortopexy, one fundoplication, and three were treated medically. Length of hospital stay (LOS) post-aortopexy was 13 days (5–60), and ventilation time was 2 days (0–9). LOS was 60.5 (1–69) days postdiagnosis in non-aortopexy patients. Readmission rates for respiratory issues were significantly less in the aortopexy (median 0 vs. 5; P = 0.048) group over 2-year follow up after discharge. Complications of aortopexy included transfusion (1) and temporary diaphragmatic paresis (1), and one mortality secondary to severe congenital cardiac anomalies. Our experience suggests that aortopexy is safe and effective for the treatment of severe TM. It is associated with reduced LOS compared with other treatment strategies and few complications or long-term sequelae.
http://onlinelibrary.wiley.com/doi/10.1111/dote.12179/abstract
Predictive factors for complications in children with esophageal atresia and tracheoesophageal fistula
Summary
The objective of this study was to describe the incidence of complications in children with esophageal atresia (EA) with or without tracheoesophageal fistula (TEF) at a tertiary pediatric hospital and to identify predictive factors for their occurrence. A retrospective chart review of 110 patients born in or transferred to Sydney Children's Hospital with EA/TEF between January 1999 and December 2010 was done. Univariate and multivariate regression analyses were performed to identify predictive factors for the occurrence of complications in these children. From univariate analysis, early esophageal stricture formation was more likely in children with 'long-gap' EA (odds ratio [OR] = 16.32). Patients with early strictures were more likely to develop chest infections (OR = 3.33). Patients with severe tracheomalacia were more likely to experience 'cyanotic/dying' (OR = 180) and undergo aortopexy (OR = 549). Patients who had gastroesophageal reflux disease were significantly more likely to require fundoplication (OR = 10.83) and undergo aortopexy (OR = 6.417). From multivariate analysis, 'long-gap' EA was a significant predictive factor for late esophageal stricture formation (P = 0.007) and for gastrostomy insertion (P = 0.001). Reflux was a significant predictive factor for requiring fundoplication (P = 0.007) and gastrostomy (P = 0.002). Gastrostomy insertion (P = 0.000) was a significant predictive factor for undergoing fundoplication. Having a prior fundoplication (P = 0.001) was a significant predictive factor for undergoing a subsequent aortopexy. Predictive factors for the occurrence of complications post EA/TEF repair were identified in this large single centre pediatric study.
Shah, R., Varjavandi, V. and Krishnan, U. (2015), Predictive factors for complications in children with esophageal atresia and tracheoesophageal fistula. Diseases of the Esophagus, 28: 216–223. doi: 10.1111/dote.12177
http://onlinelibrary.wiley.com/doi/10.1111/dote.12177/abstract
This has just been released, there is more, on this link, to read…….. but you will have to pay the on line library to be able to read the full reports. 
Diseases of the Esophagus
pages 234–239, April 2015
http://onlinelibrary.wiley.com/doi/10.1111/dote.12179/full
~
When Your Baby Won't Eat
When Your Baby Won't Eat
(Whatever causes the initial interruption, the results seem to be the same: a child who no longer connects to her own internal sense of hunger and satiety, but instead relies on external cues to decide whether and how much to eat. In this way, successful eating requires both our most primal instinct and the right set of learned behaviors. When eating goes wrong, whether it's a life-threatening aversion like Violet's or a common case of pickiness, parents and medical professionals find themselves at a version of the same crossroads: Do you try to correct the behaviour — training a child to eat well, Pavlov-style — or do you try to rediscover that primal urge and trust her to take it from there? It's a divisive question among the doctors and therapists who work with children like Violet, as well as a debate unfolding, consciously or not, around most kitchen tables in the country.)
http://www.nytimes.com/2016/02/07/magazine/when-your-baby-wont-eat.html?smid=fb-share&_r=0
~
We found this on a News Feed, posted here so you the Parents are aware of these types of feeding items.
 No matter how hard parents try to keep their children safe, there always seems to be some new threat to our kids' health that pops up. Last week, mothers Marie-Pier L'Hostie and Penny Powell from Montreal, Canada, shared pictures to Facebook of what they found hiding out inside their kids' sippy cup lids, and now parents from all over are freaking out at what they find.
 http://www.newsfoxes.com/2016/02/dangerous-if-your-child-uses-this-sippy-cup-throw-it-out-immediately/
 ~
Urodynamics
What is a urodynamic study? 
This is a test for finding out how your bladder, sphincter (the muscle around the neck of your bladder) and the urethra (the tube that carries urine out of the body) are working.  The test can help find out the cause for bladder problems such as incontinence, or difficulty in passing urine.
A urodynamic study is usually only done if other tests are inconclusive or if other treatments have failed. The test may include X-rays to help your consultant make a diagnosis.
The purpose of a urodynamic study is to find out: 
if your symptoms are due to involuntary contractions (squeezing) of your bladder muscles.  
if you have the bladder capacity we would normally expect.
 if your bladder pressure is normal during filling and emptying
A urodynamic study is usually done as an out-patient procedure. The test results will help you and your consultant decide if you need to alter your current treatment, or if you need surgery.Before you come to hospital you may be asked to keep a voiding diary for two or more days before you come to the hospital. A voiding diary is a record of how much you urinate. You will need to record what type of fluid you drink, when and how much, and the timing and volume of urine output. You may also be asked to give information about when you experience urgency or urinary leakage.
About the procedure
You will be asked to lie down on a special X-ray table, which can be moved into different positions.  Two thin tubes (catheters) are inserted into your bladder through your urethra.You may feel the sensation of needing to pass urine as the catheters are put in. Some consultants may use a local anaesthetic gel when inserting these catheters but this is not always needed.
One of the catheters going into your bladder is connected to a sterile water machine and the other is attached to a pressure monitor.  The pressure monitor is a special machine that measures how much liquid your bladder can hold and the pressure inside your bladder. A third catheter is placed in your vagina if you are female, or in your back passage (rectum) if you are male. This is also attached to the monitor and measures the pressure that the rest of your body is putting on your bladder.
Once the catheters are in place, your bladder is slowly filled with sterile water which contains an X-ray contrast dye. Whilst this is happening, you will be asked to tell the consultant when you feel the need to urinate. During the test you may be asked to cough, strain or squeeze to check how your bladder reacts under pressure.  Your consultant may take X-rays during this stage.
Some water may leak out during the test and wet you, but try not to be embarrassed by this. Remember your consultant is trying to find the cause of your bladder problem. Any fluid that leaks out is not urine but the sterile water that has been pumped into your bladder. You will then be asked to empty your bladder so that the catheters can measure the flow rate and pressure at which you urinate. At the end of the test, the catheters will be removed and you will have privacy to dress.
The test usually takes 15 to 30 minutes and it should not be painful, although it may be uncomfortable at times.
For more info
http://www.spirehealthcare.com/sussex/our-facilities-treatments-and-consultants/our-treatments/urodynamics/
http://www.atlantagynob.com/urodynamics-procedure.php
With diagrams
http://www.medicinenet.com/urodynamic_testing/article.htm