Other Health issues
I think my baby's skin looks a little yellow. Is this normal?
Jaundice?
For most babies, this is a temporary, harmless condition that goes away on its own or with mild treatment. But in rare cases, it's very serious, so it's important to keep an eye on it. High levels of a pigment in the blood called bilirubin cause the skin to look yellow. Everyone's blood contains bilirubin. Bilirubin is one of the byproducts created when old red blood cells break down. During pregnancy, the mother's liver eliminates bilirubin for her baby. After birth, it takes a while for the baby's liver to start doing the job. The result: Pigment builds up in the baby's blood and his skin takes on the yellowish cast of jaundice.
This type of jaundice, called physiologic jaundice, usually appears on a baby's second or third day of life and disappears on its own within two weeks.
More info here  www.babycenter.com/0_jaundice_89.bc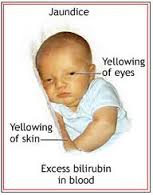 Biliary atresia
Bile is an important fluid produced by your child's liver and stored in her gallbladder. In a healthy system, it flows through a tube called the common bile duct to the small intestine, where it helps to digest food. If your child has biliary atresia, her common bile duct is blocked or damaged, so that it's impossible for bile to flow through it, just as it's hard for water to pass through a clogged pipe. This is called "cholestasis," or poor bile flow, and quickly leads to malnutrition and liver damage.
For more understanding click here.
www.niddk.nih.gov/health-information/health-topics/liver-disease/biliary-atresia/Pages/facts.aspx
~
Blue Spells (Cyanosis) and Children with Heart Conditions
LOOK AT THE BOTTOM FOR Congenital Heart Disease
What are blue spells?
Blue spells, which are also called "cyanotic spells", are short periods when a reduced amount of blood flows into the lungs. Since blood carries oxygen, less oxygen is delivered to the body. As a result, a child may appear blue or bluish. Most spells last less than a minute.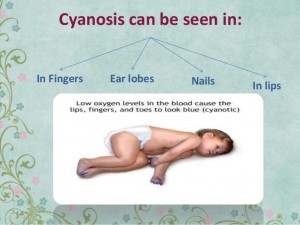 During a blue spell your child may
Suddenly feel uncomfortable or be cranky or less alert

Begin to breathe faster and deeper

Turn blue, especially around the mouth and face

Faint or feel faint
Blue spells are caused by reduced blood flow to the lungs
The most common cause of blue spells is contraction or narrowing of the path between the heart and the lungs. This narrowing lowers the amount of blood going to the lungs. The children most often affected by blue spells are those with Tetralogy of Fallot (a form of congenital heart disease). However, blue spells may also occur in children with other forms of heart disease in which blood flow to the lungs is reduced.
Some children may appear blue after getting cold or having a bath; this is not a blue spell.
Blue spells are most common
when a baby cries strongly

soon after waking

soon after a feeding

soon after a bowel movement

if a baby is dehydrated and needs liquids
Helping your child during a blue spell
If your child has a blue spell, do not panic. To help your child, follow these steps:
For babies
Place your baby on their back.

Bring the baby's knees up to touch the chest and hold them firmly in place. You can also do this while holding your baby.

Comfort and settle your baby by holding and rocking, giving a soother, and gentle cuddling.

Remain calm. Your baby can sense when you are upset, which will make it harder to settle the baby.

For older children
Place your child on their side, bringing the knees up to the chest and hold them firmly in place. Some children will automatically squat during a blue spell. This is their way of bringing their knees to the chest on their own. Make sure you can see your child's face so you can watch for colour changes and check the degree of alertness and length of the spell.

When you should call the doctor
If this is your child's first blue spell, tell your child's

cardiologist

(heart specialist).

If the frequency of your child's blue spells increases, tell your child's cardiologist.

If the blue spell lasts longer than one minute, take your child to the nearest emergency department.
If the blue spell lasts longer than one minute and there is also a change in your child's level of alertness or if your child faints, call 911 0r 999
Key points
During a blue spell, your child may suddenly feel uncomfortable; be cranky or less alert; breathe faster and deeper; turn blue, especially around the mouth and face; faint; or feel faint.

If your child has a blue spell, stay calm.

If your child is a baby, place them on their back and bring their knees up to touch their chest. Comfort and soothe them.

If your child is older, place them on their side and bring their knees up to their chest.

If the blue spell is long and your child is less alert, or if your child faints, call

911 or 999
Cyanosis
Cyanosis is a purplish-blue colour to the skin. Newborns with cyanosis are sometimes called "blue babies."
Cyanosis means that there is less oxygen being carried by the body's blood cells. In this situation, there may not be enough oxygen being carried to the tissues in the body.
The colour is caused by high levels of reduced (deoxygenated) haemoglobin in the blood near the surface of the skin. Haemoglobin is the molecule that allows red blood cells to carry oxygen. Oxygenated haemoglobin is bright red, while deoxygenated haemoglobin is bluish.
There are two main categories of cyanosis: central and peripheral. Central cyanosis causes a bluish colour in the lips, tongue, and skin, especially the fingers and toes. Peripheral cyanosis is seen only in the fingers and toes.
Cyanosis caused by congenital heart conditions is often seen soon after birth, but sometimes it does not appear until a baby is older. 
What causes cyanosis?
Cyanosis may mean that the lungs are not oxygenating the blood properly, or that not enough oxygenated blood is getting to the body.
Central cyanosis has many possible causes, including:
breathing and lung problems

heart defects that allow oxygen-poor blood from the right side of the heart to mix with oxygen-rich blood on the left side of the heart, so the blood that is pumped out to the body is low in oxygen; these defects are known as right-to-left shunts

problems with blood flow to and/or from the lungs: this may be due to abnormal connections of the blood vessels between the heart and lungs, or obstruction of the blood vessels

fluid build-up in the lungs (pulmonary edema) caused by congestive heart failure

disorders of hemoglobin, which mean the blood cannot carry oxygen properly
Peripheral cyanosis can also be caused by cold temperature, crying in a newborn, seizures, or shock, among other things.
Congenital heart defects that cause cyanosis include transposition of the great arteries, pulmonary atresia, tetralogy of Fallot, tricuspid atresia, hypoplastic left heart syndrome, truncus arteriosus, and interrupted aortic arch.
What tests will your child need?
Your child may need a variety of tests, including some of the following:
blood work to measure arterial blood gases, pH, haemoglobin, and blood sugar

oxygen saturation monitoring

a chest X-ray

an electrocardiogram (ECG)

an echocardiogram

cardiac catheterization
 What is the difference between a sign and a symptom?
Signs and symptoms are not the same things. A sign is a clinical feature of a disease or condition that the doctor looks for. It is something that can be seen or measured. This includes things like redness or the heart murmur, things that the patient may not necessarily feel.
A symptom is something the patient feels or complains about, like fatigue or pain. Symptoms cannot be directly observed. Both signs and symptoms are assessed in order to make a diagnosis.
What influences how common or severe a symptom is?
Symptoms and signs vary according to the type and severity of the heart condition, the child's activity level, and whether or not the child has been treated for the heart condition.
What are possible symptoms of a heart condition?
rapid heartbeat

difficulty breathing (shortness of breath)

cyanosis ("blue spells")

difficulty with feeding (prolonged or ineffective)

failure to thrive (poor growth)

decreased exercise tolerance

palpitations

fainting/dizziness

chest pain
What are possible signs of a heart condition?
abnormal breathing

abnormal heart rate (arrhythmia)

low blood pressure

cyanosis

heart murmur

edema (swelling)
www.aboutkidshealth.ca/en/healthaz/conditionsanddiseases/heartandbloodvesseldisorders/pages/blue-spells-cyanosis-and-children-with-heart-conditions.aspx
~
An Infant with "Dying Spells"
www.cardiovascular-anthology.com/case_report_PDF/IHJ.110.pdf
Correspondence:
Dr Shyam S Kothari,
Department of Cardiology,
Cardiothoracic Centre, All India Institute of Medical Sciences, New
Delhi 110029. e-mail: kotharis@del2.vsnl.net.in
~
Researchers identify four genetic variants that are linked to esophageal cancer and its precursor, Barrett's esophagus
For More info from within this site regarding esophageal cancer click the link below
 CLICK HERE       www.birth-defect.org/adult-info/
~
Findings from the first large-scale, genome-wide association study of esophageal adenocarcinoma may lead to new screening tools for those at high risk
SEATTLE – Oct. 13, 2013 – An international consortium co-led by researchers at Fred Hutchinson Cancer Research Center and the QIMR Berghofer Medical Research Institute in Australia has identified four genetic variants associated with an increased risk of esophageal cancer and its precursor, a condition called Barrett's esophagus.
The findings, by corresponding author Thomas L. Vaughan, M.D., M.P.H., a member of the Epidemiology Program in the Public Health Sciences Division at Fred Hutch, are published online ahead of the December print issue of Nature Genetics. Vaughan co-led the project with co-author David Whiteman, Ph.D., head of the Cancer Control Group at QIMR (formerly known as the Queensland Institute for Medical Research).
Both are members of the international Barrett's and Esophageal Adenocarcinoma Consortium, or BEACON, an open scientific forum for research into the causes and prevention of esophageal cancer and Barrett's esophagus that involves more than 40 scientists in North America, Europe and Australia.
"Epidemiologic findings, largely based on the work of BEACON investigators, clearly demonstrate that environmental factors such as obesity, gastroesophageal reflux, smoking and diet are largely responsible for the rapidly increasing incidence and mortality from esophageal adenocarconima," said Vaughan, who serves as BEACON's chair and is also a professor of epidemiology at the University of Washington School of Public Health. "However, a growing body of evidence also suggests an important role for inherited susceptibility."
To better understand the role of genetics in Barrett's and esophageal cancer, Vaughan and his BEACON colleagues pooled data and DNA specimens from 15 international studies conducted in the past 20 years to estimate the heritability of these conditions and identify genetic variants associated with increased risk. Altogether they gathered DNA samples and lifestyle risk-exposure data from more than 8,000 study participants, including about 5,500 with esophageal cancer or Barrett's esophagus and about 3,200 participants without these conditions who served as a comparison group.
The DNA samples were genotype at Fred Hutch using a high-density array that allowed for the simultaneous and accurate assessment of more than 1 million genetic variants. To increase the statistical power of the study and its ability to identify potential causal genetic mutations, information on control subjects gleaned from public data repositories was added to the mix. The data analysis was conducted at the University of Washington in collaboration with the QIMR research group in Queensland.
After combing through all of the data, the researchers identified genetic variants at three locations – on chromosomes 3, 9 and 19 – as being significantly associated with esophageal adenocarcinoma and Barrett's esophagus. In addition, they found that a genetic variant on chromosome 16 that had been previously linked to Barrett's esophagus was also associated with an increased risk of esophageal adenocarcinoma.
Vaughan and colleagues also found that the role of inherited susceptibility to this cancer appears to be much stronger in the early stages of disease – that is, the development of Barrett's oesophagus – rather than the progression of Barrett's to cancer.
"These findings establish strong starting points for further epidemiologic studies to pin down the causal variants, and laboratory studies to identify the mechanisms by which the causal variants might affect the development of Barrett's esophagus and esophageal adenocarcinoma," Vaughan said. "The fact that all four of the new loci are in or near genes associated with early development of the esophagus or already associated with oncogenic activity is particularly exciting, as it implies that we may be close to finding some important pathways in the development of this highly fatal disease."
Ultimately, the researchers believe these findings will contribute to the development of new screening tools to identify those at highest risk of esophageal adenocarcinoma and its precursor, particularly when combined with established risk factors such as obesity and gastric reflux. "Down the line we anticipate that a better understanding of the pathophysiology of these diseases will lead to better and earlier treatments," Vaughan said.
Barrett's is associated with chronic heartburn and affects an estimated 1 million to 2 million Americans. While the risk of developing oesophagal cancer in a person with Barrett's is only about 0.5 percent per year, the outlook is grim if the disease is not diagnosed early. The majority of patients with invasive esophageal cancer die within a year of diagnosis.
This year, oesophagal cancer will strike nearly 18,000 Americans and kill more than 15,000. Oesophagal adenocarcinoma, which accounts for more than 60 percent of esophageal-cancer cases, is seven times more common in men than women.
The National Cancer Institute provided primary funding for this research, the first large-scale genome-wide association study of oesophagal adenocarcinoma.
 For more, up dated data go here look down page 
www.birth-defect.org/adult-info/
~
Autism spectrum disorders Tests and diagnosis
Autism is a lifelong developmental disability that affects how a person communicates with, and relates to, other people. It also affects how they make sense of the world around them.
Autism includes a spectrum of conditions, which means that while all people share certain difficulties, their condition will affect them in different ways. Some people with autism are able to live relatively independent lives but others may have accompanying learning disabilities and need a lifetime of specialist support. People with autism may also experience over- or under-sensitivity to sounds, touch, tastes, smells, light or colours.
Asperger syndrome is part of the autism spectrum. People with Asperger syndrome are often of average or above average intelligence. They have fewer problems with speech, but may still have difficulties with understanding and processing language. They may also have difficulties understanding some of the rules governing social interaction.
Autism is often defined by its difficulties, but many reports it can also bring benefits. The cognitive strengths of some individuals may mean that they can focus on tasks without breaks in concentration, and individuals on the autism spectrum report the enjoyment they get from their unique way of thinking and perspective of the world.
Your child's health care provider will look for signs of developmental delays at regular check ups. If your child shows any symptoms of autism spectrum disorder, you'll likely be referred to a specialist who treats children with ASD, such as a child psychologist, paediatric neurologist or developmental paediatrician, for a thorough clinical evaluation.
Because ASD varies widely in severity, making a diagnosis may be difficult. There isn't a specific medical test to determine the disorder. Instead, a specialist in ASD may:
Observe your child and ask how your child's social interactions, communication skills and behavior have developed and changed over time

Give your child tests covering speech, language, developmental level, and social and behavioural issues

Present structured social and communication interactions to your child and score the performance

Include other specialists in determining a diagnosis

Recommend genetic testing to identify whether your child has a genetic disorder such as fragile X syndrome
Signs of ASD often appear early in development when there are obvious delays in language skills and social interactions. Early diagnosis and intervention is most helpful and can improve skill and language development.
For your child to be diagnosed with autism spectrum disorder, he or she must meet the symptom criteria in the Diagnostic and Statistical Manual of Mental Disorders (DSM-5), published by the American Psychiatric Association. This manual is used by mental health providers to diagnose mental conditions and by insurance companies to reimburse for treatment.
ASD includes problems with social interaction and communication skills and restricted, repetitive patterns of behaviour, interests or activities that cause significant impairment in social, occupational or other areas of functioning.
Impaired social and communication skills
To meet ASD criteria, your child must have problems across multiple situations with:
Social and emotional give-and-take in social settings — for example, an inability to engage in normal back-and-forth conversation, a reduced ability to share experiences or emotions with others, or problems initiating or responding to social interactions

Nonverbal communication behaviors used for social interaction — for example, difficulty using or understanding nonverbal cues, problems making eye contact, problems using and understanding body language or gestures, or a total lack of facial expressions

Developing, maintaining and understanding relationships — for example, difficulty adjusting behavior to suit various social situations, problems sharing imaginative play or in making friends, or a lack of interest in others
Restricted, repetitive patterns of behaviour
To meet ASD criteria, your child must experience at least two of these:
Odd or repetitive motor movements, use of objects or speech — for example, body rocking or spinning, lining up toys or flipping objects, mimicking sounds, or repeating phrases verbatim without understanding how to use them

Insistence on sameness, rigid routines, or ritualized patterns of verbal or nonverbal behavior — for example, extreme distress at small changes, expecting activities or verbal responses to always be done the same way, or needing to take the same route every day

Interests in objects or topics that are abnormal in intensity, detail or focus — for example, a strong attachment to unusual objects or parts of objects, excessively limited narrow areas of interest, or interests that are excessively repetitive

Extra  sensitivity or a lack of sensitivity to sensory input or an unusual interest in sensory aspects of the environment — for example, apparent indifference to pain or temperature, negative response to certain sounds or textures, excessive smelling or touching of objects, or visual fascination to lights or movement.
IF YOU HAVE A CHILD WITH THIS CONDITION Please watch this Plus watch the Video found on my video page, that Video is worth watching.
https://www.youtube.com/watch?v=jQ95xlZeHo8
USA HELP FOR Autism https://www.autismspeaks.org/
U.K HELP FOR Autism  http://www.autism.org.uk/
10 Early Autism Symptoms in Young Children
Autism spectrum disorder (or ASD) is distinguished by a wide variation of social, communication, and cyclical behaviours that are considered somewhat out of character for children.
Every autistic individual will experience these symptoms differently, and on a mild to severe spectrum. However, the following ten behaviours are considered common early warning symptoms of autism in children…
1. Disconnection to Others
Children with autism often seem distant or disconnected to loved ones (for example, parents and siblings). For instance, they may seem to be emotionally disconnected from others and may not register the difference between facial cues. In other words, children with autism often don't react any differently to a frown or scowl as they would to a smile or laugh.
It's important to keep in mind that autistic children are not disconnected emotionally themselves; they simply don't understand or pick up on social cues as efficiently or quickly as other children. In addition to not reacting normally to the facial expressions and social cues of others, babies with autism also tend not to smile or react joyfully themselves. They also have a diminished or non-existent capacity for the normal back-and-forth sharing of sounds or facial expressions. Typically, these symptoms will manifest by the time the baby is about nine months old.
2. Apparent Lack of Empathy
Another characteristic common to children with autism is that they have difficultly empathizing with others. While empathy is a fairly advanced emotion and it can be difficult to effectively detect and evaluate in babies and young children, there are specific cues you can look for. Generally speaking, autistic children seem to have difficulty understanding or appreciation situations from other people's perspectives. This is because they think that everyone understands the world as they do, which can cause confusion or the inability to foresee or understand the actions of others.
As with emotional disconnection, this does not happen because the child lacks the capacity for empathy. It is simply a sign of a developmental delay or disability which indicates the possibility of an autism spectrum condition. Autistic children tend to have a relatively narrow and limited range of emotions as well, and empathy may not yet be part of the child's emotional vocabulary.
3. Indifferent to Human Interaction
Most children are very social by nature. However, infants with autism don't engage by staring at the faces of others, responding when hearing their name, mimicking facial expressions, or grasping at the fingers or hands of others during play. Instead, children with autism often just don't seem very interested in engaging in normal developmental games and activities, including socializing and imitating other people.
These symptoms typically begin to show when the child is one year to 18 months of age. As socialization with other children continues, the symptoms may become more pronounced and noticeable. For example, by the age of three, children normally want to play with toys and other kids; autistic children tend to have less interest in toys and seem perfectly happy to play alone. By the age of four, an autistic child may be completely ignoring other children when they're in preschool or group play situations.
4. Emotional Outbursts
In some rarer cases, children with autism can display unbalanced emotional reactions to normal situations. For instance, they throw a temper tantrum inappropriately or show physically aggressive behaviour to themselves, their parents, siblings, or other children (i.e., biting or head banging). They may seem to be unable to control their emotions and physical responses, especially when they find themselves in new, strange, or stressful situations.
Parents should carefully monitor their children's social responses throughout their development, and familiarize themselves with the important milestones and behavioural expectancies a child should display when he or she reaches certain ages. Though relatively rare, these types of emotional outbursts should be noted and documented. That way, if the symptoms develop to a point where you report them to the child's doctor, you'll be able to provide specifics. This will aid the doctor in making a diagnosis, if an autism spectrum disorder is indeed the root cause.
5. Delayed Language Development
By 3 years of age, the majority of infants start to babble or mimic the language of those they interact with, actually pronouncing a single word when they point to an object or try to get the attention of their parents.  However, infants with autism may not start to babble or speak until much later. Some won't start to display any significant language skills until they start to work with a speech therapist.
As a general rule of thumb, use the following guidelines: by the age of 1, children should be able to say a few simple, single words. By 18 months, children should have at least six words in their vocabularies. By age 2, children ought to be able to string simple two-word phrases together, by the age of 3, children should have the capacity to form complete, albeit basic sentences. Children who fail to hit these milestones may have autism, particularly if delayed language development is accompanied by other symptoms.
6. Prone to Non-Verbal Communication
Due to the fact that autistic children don't develop verbal communication skills as early as others, they may display a propensity for non-verbal communication. For instance, they may resort to visual or physical means of communication—such as drawing pictures or using gestures to make requests or engage in back-and-forth dialogue. Another tell-tale sign of autism is that children tend to regress in their verbal skill sets; for example, they may lose vocabulary, fail to build on newly acquired communication skills, or revert back to earlier forms of communication.
Look for these symptoms not only when you interact with your child, but also when your child interacts with other boys and girls. You may notice that while other children verbalize communication even though their skills are limited, autistic children tend not to. Autistic children who communicate in gestures may also display an inhibited ability to draw meaning from back-and-forth gestural engagement with parents and adult caregivers.
7. Difficulty Understanding Figurative Expressions
Often, children with autism also have trouble understanding that people sometimes express themselves figuratively. As mentioned, they may not derive any secondary meaning from demeanour or facial expressions. They may not also detect communication cues delivered through tone of voice; for example, they can't distinguish a happy tone of voice from a sad or angry one, and unlike children following standard paths of development, they don't develop the ability to identify sarcasm or understand body language.
A related symptom is that autistic children tend to have more trouble distinguishing between what's real and what is make-believe. While most (if not all) children have active imaginations and can't distinguish between fact and fiction the way older children and adults can, for autistic children, there often seems to be no line at all between what's real and what's imagined. Interestingly, autistic children may display extremely vivid imaginations, and some seem to prefer inhabiting their own imaginary worlds.
8. Repetitive Behaviours
Individuals with autism are somewhat prone to repetitive behaviour. For instance, they may arrange and rearrange the same group of objects, rock back and forth for extended periods of time, flutter their hands, or repeat the same word or phrase in what appears an obsessive manner. This is one of the most easily identifiable symptoms of autism, and it's one most parents will be on the lookout for early on in the child's development.
Autistic children also tend to have impaired motor skills, compared with children who are on standard developmental curves. They often have trouble learning to hold or use crayons and pencils, and they may only be capable of creating unintelligible shapes when other children their age can draw recognizable pictures. Even if the child is introduced to other activities and may show interest in them for a while, regression to abstractly repetitive behaviour is a sign that the child may have an autism spectrum condition.
9. Pica
Children and even adults with autism are prone to pica, which describes a behavioural tendency to eat objects that are not food. For instance, a child may need monitoring outdoors or at school so they don't consume dirt, clay, or paste. Autistic individuals may also frequently put fingers and other unsafe objects inside their mouths. They may also attempt to chew and/or swallow these objects. Interestingly, pica is something that can also develop in pregnant women, though researchers have yet to uncover a definitive link between pregnancy pica and autism rates in children born to those mothers.
Obviously, pica poses some significant risks to the child's health. He or she may be more prone to bacterial infections and internal injuries. While many children try to eat inedible objects, the key difference is that autistic children will continue to do so at a relatively advanced age, and may engage in this behaviour despite understanding that the things they're trying to eat aren't food and don't belong in their mouths.
10. Sensitivity to External Stimuli
Sensitivity to external stimuli is another early warning sign of autism. For example, autistic individuals may become stressed or agitated when exposed to specific noises, bright lights, or particular smells, tastes, or textures. They may also become hypersensitive to certain stimuli; in other words, they will insist on wearing certain items of clothing or colours, prefer rooms with bright lights or loud sounds, and enjoy touching or playing with specific body parts. Many autistic children also display emotional stress when they are deprived of their preferred stimuli.
Alternately, the opposite can happen; an autistic child may avoid certain colours, clothes, sounds, lights, or areas of the home for no apparent reason. If they are exposed to these stimuli, they may respond by lashing out or having unusually severe temper tantrums. Researchers theorize that children with autism have highly sensitive ways of mentally processing these stimuli, which leads to the unusual behaviour and reactions.
HELP FOR YOU  www.ambitiousaboutautism.org.uk/understanding-autism/education/statements-and-education-health-and-care-plans

~
CAROLINA JOINS LAUNCH OF SPARK, NATION'S LARGEST AUTISM RESEARCH STUDY
Click on the Red Writing under here to go to different sites linked to this info.  Plus CLICK on the SPARK logo to join.
Posted in UNC Health Care News on April 21, 2016
The University of North Carolina at Chapel Hill today helped launch, SPARK, a research initiative designed to become the largest genetic research study for autism ever undertaken in the United States. The historic nationwide project will collect information and DNA from 50,000 individuals with autism — and their families — to better understand the causes of this condition and help usher in an era of personalized medicine and targeted treatment for people on the autism spectrum.
SPARK, sponsored by the Simons Foundation Autism Research Initiative (SFARI), is led locally by Drs. Joseph Piven, Gabriel Dichter and their team at UNC-Chapel Hill, which is one of 21 leading research institutions across the country chosen by SFARI to assist with recruitment.
"The initiative sets in motion an era of personalized medicine for every person with this condition," said Piven, director of the Carolina Institute of Developmental Disorders and the Thomas E. Castelloe Distinguished Professor of Psychiatry, Pediatrics and Psychology. "It not only aims to collect an enormous amount of genomic data, but to link that data to guide targeted treatment research based on a patient's genetic analysis. It's truly a historic moment in this field and provides our team with an unprecedented resource that could help thousands of families in North Carolina and beyond."
Piven and Dichter are no strangers to this kind of work. For more than 15 years, they have been building a research registry of families with at least one child with autism. This registry is a partnership between the CIDD NICHD-funded Intellectual and Developmental Disabilities Research Center and the UNC TEACCH Autism Program.
These North Carolina families – now more than 6,000 strong – have made it possible for UNC-Chapel Hill researchers to deepen their understanding of this complex condition and provide numerous intervention strategies, support systems and diagnostic tools. Piven and Dichter's team will now tap into that registry to recruit these families, while also working to find other families interested in partaking in this historic endeavour.
To date, approximately 50 genes have been identified that almost certainly play a role in autism, and scientists estimate that an additional 300 or more are involved. By studying these genes, the biological consequences of these genes and how they interact with environmental factors, researchers can better understand the condition's causes and link them to the spectrum of symptoms, skills and challenges of those affected.
"No two children with autism are the same, but the way we try to help kids now is a one-size-fits-all approach and then see what works best," said Dichter, associate professor of psychiatry and psychology & neuroscience at UNC-Chapel Hill. "The SPARK initiative offers the first opportunity to understand autism genetics in a way that will allow us, in the future, to match a person's specific genetic profile with a specific treatment plan. That is the ultimate goal of this project and we are indebted to the Simons Foundation and SFARI for making it possible."
 Wendy Chung shares what we know about autism spectrum disorder — for example, that autism has multiple, perhaps interlocking, causes. Looking beyond the worry and concern that can surround a diagnosis.
HALF WAY DOWN THIS PAGE on the link below is a long you tube video for you to watch.
Wendy Chung shares what we know about autism spectrum disorder
http://www.birth-defect.org/videos/
PLEASE WATCH THIS VIDEO
On autism and disability: Bill and Chris Davis of FAR FROM THE TREE
https://www.youtube.com/watch?v=WvH1sDn3v3I?rel=0
Published on Dec 10, 2015
This video is a follow-up to the video I made from a few months ago, titled "Entering the World of Autism with Chris Davis". The purpose of this video is to sum up what Maria and I did over the course of the semester with Chris, as well as to showcase Chris's progress and accomplishments with art and piano.
~
Some of the battles that we are still having. 
Adelle is our special little girl! Adelle was born at 30 weeks 3.3 ponds with Duodenal Atresia. Needing surgery to join her bowel and stomach at 6 days old, Adelle spent 49 long days in hospital before we could bring her home. Adelle has had many hurdles since being home as a result she has had developmental delays in many areas. From 6 months onwards Adelle started to stop breathing multiple times throughout the night while asleep, resulting in multiple sleep studies and more time in hospital. 
 
After sleep studies, Adelle was placed on oxygen for 6 months, but still had Sleep Apnoea and only stopped using her sleep mat at 2 years old. Our doctors have recently diagnosed our daughter with Autism. Due to her Autism she suffers from a lot of anxiety and struggles with social outings, her meltdowns/episodes can be extreme and violent to the point where she is harming herself or other family members. 
 
We recently had a petting zoo for her birthday and noticed the calming effect that it had on her, my wife and I have done a lot of research and have found Therapy Animals that have been well trained to help people like Adelle in her condition. 
 There is a significant cost involved in purchasing a Therapy Dog for Adelle, we are asking for your help to give our special little girl a better quality of life and help her maintain her emotions when situations become overwhelming. 
We have raised $1060 so far we appreciate any amount that you are happy to donate.
Go fund me account 
 https://www.gofundme.com/adelletherapydog
 Steve Here, can understand re this request I got from this Family, as my own Daughter is a different child around Nanny's dog, so this is one reason this above is on here, Because I understand