My son Eli Zac Massey-Mconville was born unable to swallow 25th feb 2021
My son Eli Zac Massey-Mconville was born unable to swallow 25th feb 2021
He was my third baby, prayed for and dreamt of long before the positive test we were over joyed when we found out I was pregnant, I posted on my social media "my silver lining". I was so excited we booked an early private scan everything looked great there was a heartbeat and I was settled.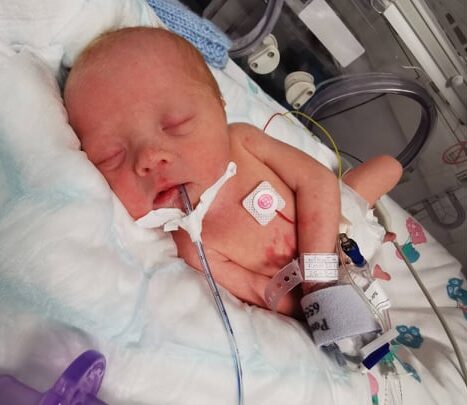 My first hospital scam came and went and everything was great, the excitement got the better of me again and we booked a private gender and well being scan and everything looked great, heard the little heart beat and confirmed baby boy. So the shopping for blue commenced.
A few weeks later I was due my 20 week scan, I had no worries as everything had looked fine up until now.
However this scan was different, it was quiet, it was eerie and I just felt a but awkward really. I tried to break the silence by saying ah hear the heart beat at least he's ok, but the response I got was but dear that's not the only thing you need to check, still I didn't think too much. Then I was asked to change positions and then i heard the words "no visible stomach bubble" to be honest something I had never heard tell of.
So i was rescanned a few times that day and over the next week, but still no visible stomach bubble was seen, I was then referred to fatal medicine in a specialist hospital, and scanned regularly no visible stomach bubble was becoming a more regular phrase now.
I was offered an amniocentesis, because now the chance of my baby having a chromosome abnormality was higher, I refused as this increased my risk of miscarriage or pre term labour and I wanted this baby more than anything in the world, and I wasn't taking that risk.
My son Eli Zac Massey-Mconville was born unable to swallow 25th feb 2021
As the weeks rolled on an the scans never found a viable stomach bubble, I was given a prenatal diagnosis of TOF/OA, a heart scan detected a possible small defect nothing major.
Then I was diagnosed with severe polyhydramnios, which was very uncomfortable, I was offered amnions regularly but I was petrified and I wanted to give my little baby the best chance I could. It became unbearable I couldn't walk properly, sleep, breathe properly I was in agony constantly, my stomach felt a ripping pain across it, so at 36 weeks and 1 day I had an amino reduction, it wasn't overly sore done, bit invasive but they drained 4 litres of fluid that day, couldn't take anymore as the baby was following the needle and it was too risky to keep going.
I had instant relief, bit crampy after but that was to be expected.
The risk with this was preterm labour, and low and behold a few days later I started feeling like something was starting, i went to be checked out and while on the monitor, the next thing the room filled with blue shirts all I could see as i was rushed to theatre the babies heart rate had dropped, the fear was something indescribable.
But thankfully the doctors got his heart rate up and kept me in for observation overnight, I them went into labour, I laboured alone due to corvid and everyone thought I had plenty of time, but again baby's heart rate dropped and I had an emergency c section, but by this stage I was already dilated 10 cm and he had made his was down the birth canal, so he had to be pulled back up it all happened so quickly my partner made the birth by 1 minute.
My baby boy was taken away straight away, they put a tube down an it coiled an came back up, i got to see him for a second and he was then took to neonatal, the doctors then came an explained they thought he had a short gap and down syndrome and hypothyroidism.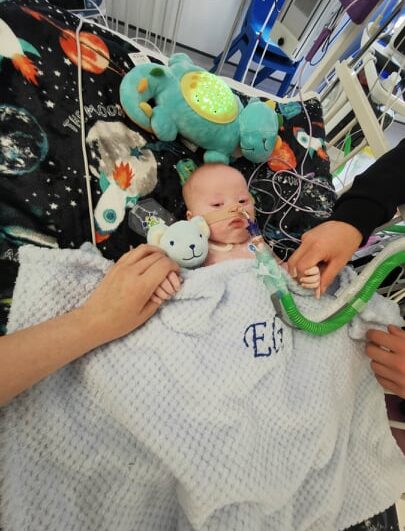 My son Eli Zac Massey-Mconville was born unable to swallow 25th feb 2021
The Logo here is from this website
The next day he went for surgery to get a g-tube button in to feed, and opened to check the gap but it wasn't short like they thought, it was actually long, and 5 vertebrates long on his tiny little 4lb 12oz body was a large gap. My heart broke i was prepared for a short hap surgery at day 1 and now this was shattered, we waited 4 months to see if hoes oesophagus would grow, each gap assessment looked good, and at 4 months a repair was attempted.
But again we didn't get the news we wanted Eli's gap was still too long, he ended up with an oesophagostomy some people call this a spit fistula, it was found he has a blind pit that looked like the start of a fistula but didn't actually develop into one high up docs thought it was a H type fistula but thankfully it wasn't.
Eli didn't recover well after surgery he took a rare complication called chylothorax which is fatal, we were told your son is extremely sick, his thoracic duct was cut through surgery, it was 17 days before this was figured out what it was, he had two cardiac arrests, chest drains to drain the chylic, he had bilateral vocal cord palsy, and we were told he would need a tracheostomy, he took pneumonia, urinary tract infections, chest infection after chest infection and was in intensive care for nearly 3 months after surgery.
Despite the odds Eli pulled through, he recovered well, his bilateral vocal cord palsy recovered we heard his voice for the first time in nearly three months, after 3 failed extubating he extubated himself by pulling the tube out himself.
At 6 and a half months old we took him home, he has his oesophagostomy, his little muscle tone is low due to being born with Down syndrome, he had hypothyroidism, he's prone to the odd chest infection, his development is a lot slower than other babies his age, he had a vsd and pfo heart condition, and he is fully g -tube fed.
But he really is my silver lining I never knew the struggles some people had to live with, and Eli has taught me so much through everything he has went through he has smiled, he fought hard, he never gibe up. His brother Archie and sister Isla Rose never got to meet him until he came home from hospital due to corvid restrictions it was only me and his dad allowed into the hospital, but they absolutely dote over him he is showered with love, and he is enjoying being home and spending time with his family.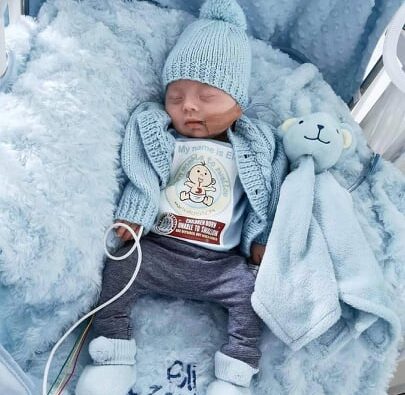 My son Eli Zac Massey-Mconville was born unable to swallow 25th feb 2021
We don't know what the future holds, we don't know if we will have to go to another place to try be repaired again. A gastric pull up is talked about but it looks likely it wont happen in Northern Ireland.
I document Eli's little adventures as we call them on his own little Facebook and Instagram page called The Adventures of Eli, this was a great coping mechanism for me while going through this difficult time I found writing was my outlet.
It allowed me to explain and express how Eli's long gap oesophageal atresia and down syndrome and other health complications effected him and us throughout our adventure.
I believe the power of prayer and Angela saved Eli, and have allowed us to become a family unit again.
We call Eli our little miracle baby and that he really is, he smiles from morning until night, things might be a little different now but its all worth it.
Written by mum Nicola Massey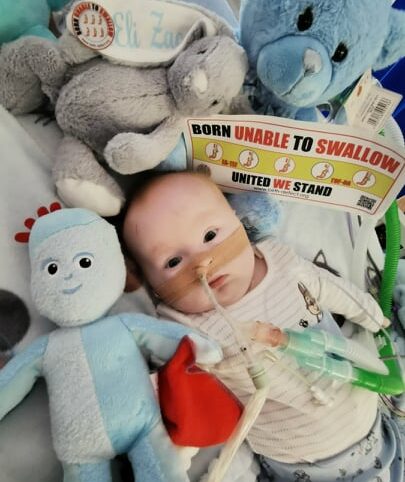 Has boxed for a few years he has won several Title belts. but due to corvid he wasn't able to box with restrictions.
So his first fight in 18 months was 15th October 2021 he fought for the Irish Boxing Association in Belfast, Eli was home just 5 weeks from hospital at this stage after spending 6 and half months in hospital.
So TJ decided he would have specially made shorts to draw awareness to Eli's conditions, because in Northern Ireland we find it really hard to explain what Eli has, no one really understands, "we often get comments like but he will be ok" , or "when can he have a bottle".
TJ got me to ask Steve Wyles would it be ok to use his Logos and have them printed onto his shorts to draw awareness for TOF/OA born unable to swallow, he loved the logo of the little baby trimmed in blue he thought it was just like Eli, so he had this printed on shorts that were yellow and blue with 321 on the waist band to draw awareness to Down syndrome as well.
Tj won this fight, he said to Eli before he left that night "this ones for you our kid" and he went out, and give it his all.
AND WON.
TJs dream is to fight pro and hopefully his dream comes true some day and Eli will get to be there to watch him.