57-year-old USA woman undergoes 1st-ever trachea transplant
57-year-old USA woman undergoes 1st-ever trachea transplant
Throughout human history, replacing and rebuilding the trachea was thought to be impossible. With the success of this historic operation, patients may benefit from a life-saving new treatment that has untold implications for those with diseased or damaged tracheas as well as other implantations. The Tracheal Airway Disease and Tracheal Transplant Program at the Mount Sinai Health System are world-renowned for the advanced disease of the tracheal airway.  The Program provides specialized treatments for disorders of the trachea using a multidisciplinary approach. Their multidisciplinary team is comprised of innovators in tracheal reconstruction and laryngeal reconstruction focused on restoration of the airway and voice. Their specialized team includes head and neck surgeons, thoracic surgeons, laryngologists, pulmonologists, pulmonary interventionalists, and experts in airway radiology.
Our complex Airway Program treats patients with a variety of disorders that impact breathing and may present as wheezing or shortness of breath. Mount Sinai physicians have significant experience in performing surgical procedures to treat complex airway conditions, like Tracheobronchomalacia, Tracheoesophageal fistula, Tracheal or bronchial tumor, plus other conditions.
57-year-old USA woman undergoes 1st-ever trachea transplant
The trachea, also known as the windpipe, is an organ that is essential for speaking, breathing, and normal lung function. The trachea connects the larynx to the lungs and plays a critical role in normal lung function, the immune system, and breathing. Six years ago, the 57-year-old experienced a life-threatening asthma attack that forced ER doctors in the Bronx to intubate her. And in the process, the tube damaged her vocal cords and her trachea essential for speaking, breathing, and normal lung function.
After undergoing several medical procedures, Sein was left with a temporary hole in her windpipe that she needed to cover in order to speak.
"I think I lived more in the hospital than I did at home," Sein told "Good Morning America." "I wasn't able to do running, going to the beach, laughing, dancing." Mount Sinai head and neck surgeon Dr. Eric Genden developed a tracheal transplant procedure after years of work it had never been done successfully because doctors couldn't get blood to flow to the new organ. As we learn more and study new protocols, it will only make the time following transplantation even easier," said Genden in the article. "A whole new world is going to open up in organ transplantation."
The first-ever trachea transplant recipient. She received the call in January that doctors found a donor. The procedure lasted over 18 hours and 50 people were involved. While he said there were "many opportunities" for things to go wrong during the surgery, Three months later, the lady is doing great and her body is showing no signs of rejection. Doctors will also soon close up the hole in her neck so she can speak freely. The team at Mount Sinai's historic procedure resulted from 30 years of research, much of it focused on how to revascularize or provide blood flow to the trachea. The 18-hour procedure took place on Wednesday, January 13, and was led by surgeon-scientist Eric M. Genden, MD, MHCA, FACS, the Isidore Friesner Professor and Chair of Otolaryngology-Head and Neck Surgery for Mount Sinai Health System and Professor of Neurosurgery, and Immunology, at the Icahn School of Medicine at Mount Sinai.
A spokesperson for the Hospital said, For the first time, we are able to offer a viable treatment option to patients with life-compromising long-segment tracheal defects, and this development will change the standard of care. It is particularly timely given the growing number of patients with extensive tracheal issues due to COVID-19 intubation. The trachea transplant recipient is a 56-year-old female social worker from New York City. She had severe tracheal damage due to repeated intubation after an asthma attack; several failed surgical attempts to reconstruct her trachea led to even further damage. She breathed through a tracheostomy, Our trachea transplantation, and revascularization protocol is reliable, reproducible, and technically straightforward," says Dr. Genden. "For years, the medical and scientific consensus has been that trachea transplantation could not be done because the organ's complexity made revascularization impossible, and every previous attempt to perform in-human transplantation ended in failure. This surgical achievement is not only the culmination of 30 years of research that began when I was a medical student at Mount Sinai, but was also made possible by the spirit of collaboration that exists at Mount Sinai." Despite extensive research on the vascular supply to the organ using human and animal models, there is no real way to fully prepare for conducting first-ever in-human transplantation such as this," Dr. Genden said. "For example, we had no guide for how well the graft would tolerate transplantation, so we worked very quickly. Eighteen hours later, it was clear we had accomplished what many said could not be done. Ultimately, everything went smoothly because we assembled a strong team with extensive surgical expertise in organ transplantation and tracheal reconstruction
originally appeared on goodmorningamerica.com (6th April 2021)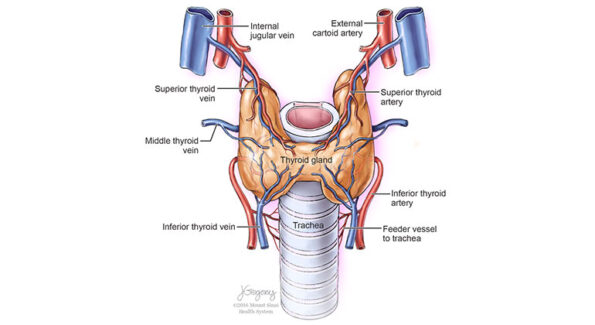 57-year-old USA woman undergoes 1st-ever trachea transplant
About the Mount Sinai Health System
The Mount Sinai Health System is New York City's largest academic medical system, encompassing eight hospitals, a leading medical school, and a vast network of ambulatory practices throughout the greater New York region. Mount Sinai is a national and international source of unrivaled education, translational research, and discovery, and collaborative clinical leadership ensuring that we deliver the highest quality care—from prevention to treatment of the most serious and complex human diseases.
The Health System includes more than 7,200 physicians and features a robust and continually expanding network of multispecialty services, including more than 400 ambulatory practice locations throughout the five boroughs of New York City, Westchester, and Long Island. The Mount Sinai Hospital is ranked No. 14 on U.S. News & World Report's "Honor Roll" of the Top 20 Best Hospitals in the country and the Icahn School of Medicine as one of the Top 20 Best Medical Schools in the country. Mount Sinai Health System hospitals are consistently ranked regionally by specialty and our physicians in the top 1% of all physicians nationally by U.S. News & World Report.
Mount Sinai Health System – New York City | Mount Sinai – New York