PLEASE READ
What you read on this page is how far the Doctors have come. 
Found this while looking for other things found it interesting if nothing else.
The history of oesophageal atresia and tracheo-oesophageal fistula–1670-1984.
The history of oesophageal atresia commenced in the year 1670 with Durston's description of "A narrative of a monstrous birth at Plymouth". However, the most significant contribution in the 17th century was made by Gibson, who clearly described the clinical picture and necropsy findings in a baby with a proximal oesophageal atresia and a distal tracheo-oesophageal fistula. The 18th century was singularly lacking in contributions to the literature, but there were many important presentations during the 19th century. Early in that century, Martin in France and Hill in the United States of America contributed to the literature; subsequently, many anecdotal references can be found particularly in England, and ultimately a surgical attempt to correct the anomaly was made in 1888 by Steele in London. With this, the pre-surgical era gave way to the surgical era, and at a later stage pre-survival era was to give way to the survival phase. Reference will be made in the text to these various phases in the history and to the many pioneering surgical endeavours which took place in the earlier years of the 20th century. It will be seen that the surgical efforts employed palliative procedures, indirect attacks on the problem and finally direct attacks. The classic successes by indirect methods which were achieved by Ladd and Leven in babies born in 1939 were to be followed by the first successful end-to-end anastomosis which was achieved in Ann Arbor, Michigan, by Cameron Haight. Others had attempted primary anastomosis, and Lanman, in particular, deserves mention. However, it was Cameron Haight who opened a new era in the history of the treatment of oesophageal atresia; the recent history is largely concerned with increasing experience and refinements in technique. For the future historian, many pathways can still be explored, including oesophageal replacement, the unstable trachea, follow-up studies and research projects. This history also included comments on the history of the less frequently encountered anomalies and such aspects as classification and radiology. The history of oesophageal atresia and tracheo-oesophageal fistula is a mini history of surgery – "oesophageal atresia is the epitome of modern surgery".
 TODAY's Ways
DR FOKER'S WAY of growing the two ends together
Non-Operative Correction for Long-Gap Esophageal Atresia
About 1000 infants a year in the states are born with their oesophagus disconnected, which is called Esophageal Atresia (EA). The standard operation for oesophagal atresia is Foker process, which requires several thoracotomies for placing traction sutures on oesophagal ends, followed by primary anastomosis. There have been attempts to develop a non-operative method for correcting oesophagal atresia, especially by using magnetic force. Hendren et al. explored electromagnetic bougienage method to correct long gap oesophagal atresia. Zaritsky et al. presented a method of magnetic compression anastomosis, which took advantage of large attracting force between two rare-earth permanent magnets.
In our research, a non-operative correction method for long-gap oesophagal atresia is proposed. A magnetic-tipped catheter was designed for bougienage and compression anastomosis. The magnetic tip comprises syringe mechanism with an outer barrel, which functions as a fluidic stand-off. The pressure of the fluid could be measured externally so as to estimate the tip force. The catheter moves back and forth by friction drive (long stroke), and the syringe mechanism at the tip also generates more displacement (short stroke).
A pair of the magnetic catheter is put into proximal and distal oesophagal pouches respectively. They apply cycling stretching force on oesophagus to stimulate it to grow. Once the oesophagus grows in sufficient amount, the fluid in the magnetic syringe could be drawn off for magnetic compression anastomosis; the large force between two magnets squeezes the oesophagal tissue, necrosis and regeneration of the sandwiched tissue leading to the compression anastomosis.
 If you were wondering what is coming in keeping us alive
WATCH THIS VIDEO, THIS IS THE NEW IDEA'S OTHERS ARE WORKING ON FOR YOU AND ME
~
Can You Think This Over
BLOOD
Every time a child is in Hospital for whatever reason, there is the possibility the Doctors will need blood for the Child, someone somewhere has given their blood so that child or adult can undergo the operation So we ask this of you, give this some thought, please.
Why give blood?
Donated blood is a lifeline for many people needing long-term treatments, not just in emergencies. Your blood's main components: red cells, plasma and platelets are vital for many different uses.
Red cells, plasma and platelets
Red cells are used predominantly in treatments for cancer and blood diseases, as well as for treating anaemia and in surgeries for transplants and burns. Plasma provides proteins, nutrients and a clotting agent that is vital to stop bleeding – it is the most versatile component of your blood. Platelets are tiny cells used to help patients at a high risk of bleeding. They also contribute to the repair of damaged body tissue.
Short shelf-life
Maintaining a regular supply of blood to all the people who need it is not easy. Blood components have a short shelf life and predicting demand can be difficult. By giving blood, every donor is contributing to a nation-wide challenge to provide life-saving products whenever and wherever they are needed.
Red cells – up to 35 days
Plasma – up to one year
Platelets – up to seven days
we have relied on the generosity of blood donors not only to maintain stock levels for all our hospitals but to provide the necessary range of eight blood types. We are indebted to our regular donors for their role in helping us to save lives. We sometimes need to target specific blood types to increase stock levels. This is particularly true of O Rh negative blood, which is rare but essential because it is the only blood type that can be given to anyone, regardless of their blood type. Donors with the blood group B Rh negative are more often found in black and south Asian minority ethnic communities.
Australia  www.donateblood.com.au/
WHAT IS COMING
Published on Aug 20, 2015,                                                                                                                                     Sepsis
This video explains how sepsis induced by an overload of blood pathogens can be treated with the Wyss Institute's improved pathogen-extracting, spleen-mimicking device. Blood is flown through a cartridge filled with hollow fibers that are coated with a genetically engineered blood protein inspired by a naturally-occurring human molecule called Mannose Binding Lectin (MBL). MBL is found in our innate immune
~
 PICC line catheters and Tunnelled Catheters WHAT ARE THEY?

PICC line catheters are not necessarily better than other central venous catheters, but they may affect the patient's activities more than other types of catheters. But tunneled catheters and implanted ports are the other types of central venous catheters, which are tubes threaded through veins to a spot near the heart for the purposes of giving medications, blood or kidney dialysis. Tunnelled catheters and implanted ports are typically left under the skin to keep them in place and require less care than a PICC line, PICC lines are central catheters inserted into a vein in the arm, whereas other catheters are placed in the neck or chest.
PICC Line Catheter.
Tunneled catheters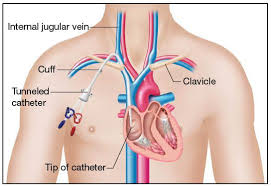 Tunneled top PICC Bottom of diagram, below.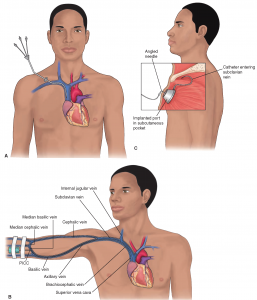 Long-term central venous access devices, external catheters, and implanted ports, have found great use for administration of inpatient and outpatient, for intravenous antibiotics and for intravenous nutrition. Maintaining a clean PICC line area is important for preventing complications such as infections, and keeping careful watch over the line insertion is critical, a person with a PICC line needs to watch for changes in skin color, and report changes immediately to a medical professional. For preventative care, it is important to wash hands frequently and avoid touching the catheter or dressing. The PICC line area must be kept as dry as possible. Bending so that the arm is below the waist area or using tools such as scissors needs to be avoided, as this can cause the PICC line to slip out of the vein. Furthermore, drinking plenty of water helps reduce the chance of clotting. A person with a PICC line needs to maintain muscle movement in the arm with the line in it, but excessive exercise or engaging in sports is not recommended.
~
Abstract from medical reports
2014 Jan
A case of VACTERL and non-VACTERL association without the "V and L".
VACTERL is a cluster of congenital malformations based on the non-random association of various congenital malformations in a single patient. Here "V" denotes vertebral defects or vascular anomalies (single umbilical artery), "A" anal atresia, "C" cardiac abnormalities, "TE" tracheoesophageal fistula, "R"renal (kidney) abnormalities and "L" for limb anomalies) It is called an association, rather than a syndrome because the complications are not pathogenetically related, tend to occur more frequently than expected and are thought to be linked to embryonic mesodermal defects. Studies have reported the coexistence of various other congenital malformations such as respiratory, cerebral anomalies, which are frequently referred as non-VACTERL-type of associations. Diagnosis of VACTERL association is done only when at least three of the above mentioned congenital malformations are identified in a patient. Although 80% of these cases have vertebral defects, our case is unique as the patient does not have one of the commonest occurring association i.e., vertebral anomalies, but has all other associations and an additional non VACTERL brain anomaly, hitherto unreported in the literature. The other highlight of this case is although reports say that VACTERL babies with the ipsilateral renal disorder have the same side limb defects, our case has a renal anomaly with no limb anomaly. Finally, VACTERL and non VACTERL association were considered in our patient in view of ventricular septal defect, tracheoesophageal fistula, anal atresia, renal anomaly, seizure disorder and global developmental delay due to pontocerebellar hypoplasia.
KEYWORDS:
Crossed fused ectopic kidney; VSD; anal atresia; gastroesophageal reflux scintigraphy; methylene diphosphonate bone scan; renal and limb anomalies; tracheoesophageal fistula; vascular anomalies; vertebral defects
www.ncbi.nlm.nih.gov/pmc/articles/PMC3928753/
2014 Dec
Eosinophilic esophagitis in patients with esophageal atresia and chronic dysphagia.
Esophageal atresia (EA) is defined as a discontinuity of the lumen of the esophagus repaired soon after birth. Dysphagia is a common symptom in these patients, usually related to stricture, dysmotility or peptic esophagitis. We present 4 cases of patients with EA who complained of dysphagia and the diagnosis of Eosinophilic esophagitis (EoE) was made, ages ranging from 9 to 16 years. Although our patients were on acid suppression years after their EA repair, they presented with acute worsening of dysphagia. Esophogastroduodenoscopy and/or barium swallow did not show stricture and biopsies revealed elevated eosinophil counts consistent with EoE. Two of 4 patients improved symptomatically with the topical steroids. It is important to note that all our patients have asthma and 3 out of 4 have tested positive for food allergies. One of our patients developed recurrent anastomotic strictures that improved with the treatment of the EoE. A previous case report linked the recurrence of esophageal strictures in patients with EA repair with EoE. Once the EoE was treated the strictures resolved. On the other hand, based on our observation, EoE could be present in patients without recurrent anastomotic strictures. There appears to be a spectrum in the disease process. We are suggesting that EoE is a frequent concomitant problem in patients with the history of congenital esophageal deformities, and for this reason, any of these patients with refractory reflux symptoms or dysphagia (with or without anastomotic stricture) may benefit from an endoscopic evaluation with biopsies to rule out EoE.
www.ncbi.nlm.nih.gov/pmc/articles/PMC4273156/
2015 Apr
Treatment outcomes for eosinophilic esophagitis in children with esophageal atresia. EoE
Eosinophilic esophagitis (EoE) has been reported to be more prevalent in patients with esophageal atresia/tracheoesophageal fistula (EA-TEF). To date, there is limited data on the management of EoE in this group of patients. The aim of this study is to evaluate the treatment outcomes of EoE in children with EA-TEF. A retrospective chart review was performed on all EA-TEF children who were diagnosed with and treated for EoE between January 2000 and September 2013 at the Sydney Children's Hospital. Data collected included details of the patient's treatment, post-treatment endoscopy, symptoms, and nutrition. Twenty patients were included in the study. Median age at diagnosis was 26 months (8-103 months), and median time from diagnosis to the last follow-up was 23 months (2-132 months). Patients were treated with budesonide slurry, swallowed fluticasone, elimination diet alone or in combination. All patients were on proton pump inhibitors at the time of diagnosis of EoE which was continued. Six out of seven patients who had furrowing/exudate in endoscopy at diagnosis had a complete resolution at a median follow-up period of 26 months (P = 0.031). Median peak intraepithelial eosinophil count reduced significantly from 30/high-powered field (HPF) (19-80/HPF) to 8/HPF (0-85/HPF) (median time for improvement = 24 months) (P = 0.015). There was a significant reduction in symptoms of dysphagia and reflux post-treatment (P < 0.001). Prevalence of strictures significantly decreased (P = 0.016), as did need for dilatations (P = 0.004). In four out of six patients with gastrostomies at baseline, the feeding improved on the treatment of EoE and the gastrostomy could be closed. There was also a nonsignificant trend towards improvement in weight and height 'z scores' of the patients. Treatment of EoE in children with EA-TEF was found to significantly reduce intraepithelial eosinophil count, symptoms, strictures and need for dilatations.
www.ncbi.nlm.nih.gov/pubmed/25872589
Eosinophilic Esophagitis (EoE disease) in Children
Eosinophilic esophagitis (EoE) is an inflammatory condition in which the wall of the esophagus becomes filled with large numbers of white blood cells called eosinophils.Because this condition inflames the esophagus, someone with EoE may experience difficulty swallowing, pain, nausea, regurgitation, and vomiting. Over time, the disease can cause the esophagus to narrow, which sometimes results in food becoming stuck, or impacted, within the esophagus, requiring emergency removal.In young children, many of the symptoms of eosinophilic esophagitis resemble those of gastroesophageal reflux disease (GERD)—including feeding disorders and poor weight gain—so the child may be mistakenly diagnosed with GERD. However, proper diagnosis of esophagitis in children is important because it is a serious disease that can cause lifelong problems if undiagnosed.
Quick Facts about Eosinophilic Esophagitis
75% of individuals with EoE are white males

EoE occurs in approximately 1 in 10,000 people

The exact cause of EoE is unknown, but it appears to be related to food allergies

EoE is more common in patients with other allergic diseases, such as asthma

EoE was discovered relatively recently and much remains unknown about the disease

In 2006, CDHNF and other experts formed The International Gastrointestinal Eosinophil Researchers

(TIGER)

to study the role of eosinophils in gastrointestinal diseases.
USEFUL INFO FOUND ON THIS WEBSITE BELOW
What is TIGER?
The International Gastrointestinal Eosinophilic Researchers (TIGER) are a group of pediatric and adult physicians and basic scientists interested in understanding the underlying science and clinical effects that eosinophils have on disease. TIGER currently includes physicians from the specialties of gastroenterology, allergy, and pathology as well as researchers who are dedicated to conducting laboratory, clinical and genetic research on eosinophilic and allergic disorders of the gastrointestinal tract. The group also works with medical societies and community advocacy groups to educate providers and the public.
www.gikids.org/files/documents/resources/A%20Guide%20to%20Eosinophilic%20Esophagitis%20in%20Children%20and%20Adults.pdf
Eosinophilic Esophagitis: Symptoms & Diagnosis
Does My Child Have Eosinophilic Esophagitis?
Eosinophilic Esophagitis has only recently been identified as a disease, and many of its symptoms—particularly in children—mimic the symptoms of GERD.
Eosinophilic Esophagitis symptoms may include:
Nausea

Problems swallowing (dysphagia)

Vomiting

Stomach pain

Chest pain

Heartburn

Loss of weight

Food impaction
Patients of different ages tend to experience different symptoms:
In children, Eosinophilic Esophagitis symptoms are usually similar to those of

GERD

(abdominal pain, nausea, vomiting, poor weight gain)

Adolescents and adults frequently experience difficulty swallowing as well as food impaction
Reflux & GERD
www.gikids.org/files/multimedia/MedicalAnimationReflux.swf            
The Difference Between Reflux and GERD in Kids
In babies, it's called spitting up. In older kids, the signs of reflux and GERD can be burping, stomach aches, and heartburn. Most people experience acid reflux sometimes, and it's usually not a problem. Even infants who spit up frequently are usually perfectly healthy.However, in some people, reflux happens so frequently and is so severe that it develops into a condition called gastroesophageal reflux disease (GERD). GERD occurs when reflux causes troublesome symptoms or complications such as failure to gain weight, bleeding, respiratory problems or esophagitis.You can develop GERD at any age. There are some differences between the symptoms, management, and treatment of GERD in infants and GERD in older children and teens. GIKids has resources and information about pediatric GERD, whether you have an infant, older child, or if you are a teen with GERD. The most important thing to know is that, with proper treatment, kids with GERD can lead normal, active lives.
Quick Facts about Reflux and GERD
In many cases, GERD in kids can be managed with lifestyle changes, and without medication, GERD often runs in families

Kids with GERD may have frequent complaints of abdominal pain or a tummy ache

Children and teens with asthma are more likely to have GERD
Diagnosing Eosinophilic Esophagitis:
If your doctor suspects that your child has Eosinophilic Esophagitis, he or she will conduct a biopsy of the esophagus. The biopsy is usually done with a procedure called endoscopy, in which a small camera is inserted into the esophagus. Sometimes, the doctor will see rings of eosinophils (white blood cells) in the esophagus—but often it will appear normal.After the biopsy, the tissue will be inspected for evidence of eosinophils, If an EoE diagnosis is confirmed, the doctor will likely conduct allergy testing, looking for food and environmental allergies that contribute to the patient's EoE.The International Gastrointestinal Eosinophil Researchers (TIGER) is currently in the process of evaluating and developing better clinical and diagnostic methods for determining food and aeroallergens that may be responsible for EoE.
gi.org/guideline/evidenced-based-approach-to-the-diagnosis-and-management-of-esophageal-eosinophilia-and-eosinophilic-esophagitis-eoe/
Esophageal Dilation in Eosinophilic Esophagitis: Nov. 2017
Not Just for Adults Anymore. Doctor, Evan S Dellon
(This is very long I have only taken a wee bit of this study follow link to download the PDF yourself) 
RE. Dilation of pediatric eosinophilic esophagitis: adverse events and short-term outcomes
Eosinophilic esophagitis (EoE) is a chronic immune/ antigen-mediated disorder characterized by eosinophilic infiltration of the esophageal mucosa (J Allergy Clin Immunol 2011;128:3–20; Gastroenterology 2015;148: 1143–1157). The chronic esophageal inflammation increases the risk of developing fibrosis, esophageal strictures, and long-segment narrowing, but this has largely been noted in adult patients (Gastrointest Endosc 2014;79: 577–585). When these complications occur, esophageal dilation may be necessary. Although there was originally a concern that this procedure held significant risks in EoE, recent studies primarily examining adult patients demonstrate that the risk of serious complications such as perforation is low and that dilation can be safely performed (Am J Gastroenterol 2016;111:206–213; Gastrointest Endosc 2017;86:581–591.e3). However, there are limited data regarding safety and tolerance outcomes in children with EoE who require esophageal dilation. The study by Menard-Katcher et al is one of the first to assess the adverse event rate and short-term outcomes of November 2017 Selected Summaries 1445 esophageal dilation in children. They aimed to evaluate differences in dilation-related complications between patients with EoE and without EoE as well as those undergoing standard upper endoscopy. This study is a retrospective assessment of children 18 years and younger at a tertiary academic medical center over a 5- year period. Of the 451 total dilations identified, 68 were performed in 40 EoE patients. Of the EoE patients, 43% required a repeat dilation during the study period. Non– wire-guided bougies (Maloney dilators) were used for the majority of the procedures (72%), with the remainder completed with through-the-scope balloons. There were no major complications, such as perforations or significant hemorrhage. Chest pain was reported after 14.7% of EoE dilations. Dilation-related adverse events rates of grade 2 or higher (those requiring unanticipated medical intervention) were seen in 2.9% of EoE and 3.1% of non-EoE patients (P > .5). In the EoE patients, the 2 adverse events were post-dilation chest pain requiring chest radiographs and chest pain requiring overnight observation for analgesia
http://www.gastrojournal.org/article/S0016-5085(17)36195-4/abstract
.