Born Unable to Swallow
www.born-unable-to-swallow.com
Our Medical Survivors and Little Heroes
Don't let the world change your smile, make your smile change the world
We are a small team, with BIG ideas. Together, we are making a difference for families and providers.
We are connecting and networking around the world to get answers to YOUR medical and social needs. Our mission is simple: Solutions.
Why? Because it's time, and we know the struggle is real being born unable to swallow. Let us work together.
United We Stand
We are supported by the leading innovators in esophageal solutions. Pioneers such as Boston's Children's Hospital, Columbia Medical Center, The University of North Carolina at Chapel Hill, Doctors dedicating themselves, and their groundbreaking techniques to us, because they care.
We care. We are 100% Non-Profit.
Our research efforts have resulted in published studies and together we are making a difference. We provide education, resources, awareness posters and who we are connected to our medical professionals paving the road to esophageal solutions. If you have a medical question, if you need to travel to get to a medical provider, if you think you are alone and need support, WE ARE HERE. We have answers and solutions. We know because we are EA survivors, who fully understand how hard it is to get difficult questions answered.
We are The Birth-Defect Team.
Stephen Wyles and Sue Paul hold TWO USA Medical Papers as Co. Authors more on this can be seen on this Website.
Please look on the page (Ea-Tef  – Tof-Oa Surgeons that support website) Plus look at bottom of this page to see who has endorsed this site.
 Stephen Wyles, plus Sue Paul and Simon Ilett give all their time for FREE to bring this website to you. 
 This was posted in a group by a Mother from England talking about Stephen Wyles. Dated 25th -07-2019
He didn't know me but when I reached out in desperation because my baby was born with oesophageal atresia and trachea oesophageal fistula, he was there. He helped me learn about a whole new world. Every day we chatted via messenger.
He gave me hope and assured me I was doing a good job.
Steve your nana would be so proud.
Nearly 2 years on and we are still in contact.
Hopefully one day we will meet X
Born Unable to Swallow. TEF-EA – TOF-OA.
This is the logo for this website Steve added a QR Square under the feet of the Family, in 2019, which links back to this website, over the last three years from 2016 till today of writing this August 2019 Stephen Wyles has shipped these out to Parents across the world as car stickers, as seen on the photo below, but as a free gift to the Parents and their child, born unable to swallow like he was.
When asked why his reply was.
Because of two general surgeons that saved his life in 1962 in a Hospital in England, he wanted to not let their efforts in saving his life go to waste and as a thank you, to those surgeons he post's out stickers each year as a gift to others in helping bring about awareness for their children.
This year 2019 in August (His Birthday Month) Stephen has posted out 900 (from 900 made) car stickers in, ones, two's, Fours, and ten's (for groups) to 20 countries with five world Surgeons asking to. writing over 447 envelopes.
He has asked that this logo be added here so other Families around the world can save and use it for their own ideas in linking up and bringing about the awareness for the Children and those children not yet born, with this condition.
Remember also that this website is endorsed by leading world Surgeons, as seen below, and was involved in earning Stephen and his Friend in USA Sue Paul two USA Medical Papers as Co-Authors, on an idea Stephen came up with along with Sue Paul and backed by more leading USA team of Surgeons. This website is also involved with other studies running in the USA links for these can be found just above here on link EA Studies.
To use this logo click on it and save it.
What can you use it for? it comes from a website that has earnt the respect of World Surgeons and Parents alike. If you wish to get involved join the Support group and message Stephen or Sue. The link to the group is found above.
Here is a list of Countries in 2019 Stephen sent out to, all 20
England – Wales and Scotland / USA / Canada / India / Australia / Ireland – North and South / Argentina / Indonesia / Egypt / Philippines / South Africa / Germany / South Korea / Pakistan / Singapore / New Zealand / Greece / France / Bosnia / Austria /
One World respected Surgeon requested 15 and was sent that amount, and passed onto other Surgeons in four other countries, showing support for the work this website team is trying to do, and the rest went to other Surgeons at a large conference in India.
5 people asked for 10 for groups, one in Australia wanted to help so cheekily asked for 22 and was sent 22
With a Promise from someone in Australia, he sent 22 to, that they would post to New Zealand if anyone asked.
Photo is of a Car Window Sticker sent to Stephen from a Family in the USA in August 2019. They stick on the outside of the window made by a British firm to Stephen's high standards.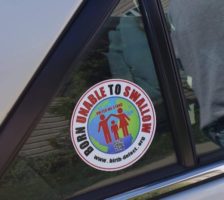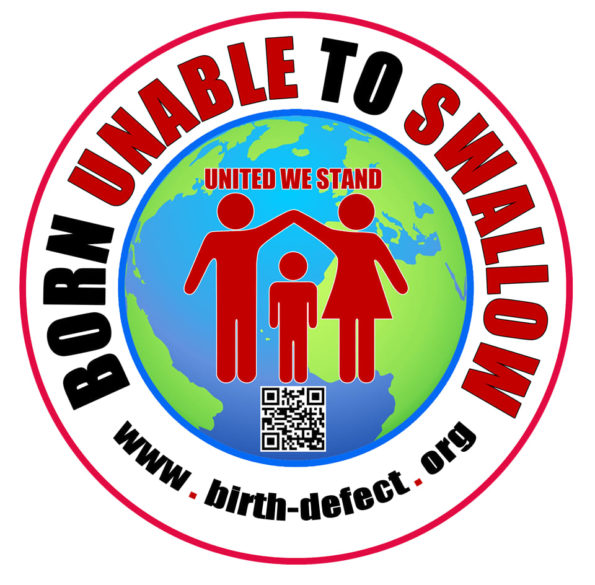 You tube video of small girl opening an envelope of car stickers
This was taken off Stephens Face book page via his mobile phone after the Mother of this little girl posted her daughter opening the envelope that Stephen had sent to her, which contained 10 car stickers in total for the Ea-Tef group down in Indonesia.
The little Girls Parents gave the ok to turn this post into a youtube video to be used on this site, under the site logo seen being held to the small child's chest, where she gives out a small child's squeal, which could not be captured on this small video.
This group as with others can now download the logo seen above and use it for free, so bringing about awareness for the condition.
Born Unable to Swallow. TEF-EA – TOF-OA.
This was sent to Stephen Wyles by a Surgeon,
(I would like to share this animation about pediatric anesthesia It's amazing!)
We were going to put it on inside of the website but felt it might get lost, and then it would not be seen by you. We showed it to a Family the Child said, is that about me Mummy?
Testimonials

This site provides a valuable resource to patients and families who have EA-TEF & TOF-OA, and associated anomalies. Not only does it provide information on diagnosis and treatment, but it provides valuable insights and networking for patients and families who may feel isolated or lost in dealing with the complex issues they may face. It is a great resource to get information and support.
Another testimonial

Happy to endorse the site. It is a great service to patients, families and caregivers of children with complex esophageal and airway anomalies. You have created a wonderful virtual community for people to gather and share the frustrations, challenges, and victories associated with living with esophageal atresia.
Another testimonial

Soy testigo del grandioso esfuerzo que ha hecho Steve de conjugar una enorme información para la orientación de la comunidad mundial de familias y de niños nacidos con AE y FTE . No existe otro espacio en el
Mundo que llene tanto vacío existente alrededor de este gran problema , convirtiéndose en el sitio por excelencia para renacer la esperanza de madres y familias desesperadas , convirtiéndose en esa tabla de salvación para conocer , orientarse y tomar las mejores decisiones .
Gracias Steve y Sue por este gran aporte a esta necesitada comunidad.